Annapurna Sanctuary and Circuit Trek
Wednesday 8 October - Hiking Day 1
Morning flight to Pokhara (2,789 ft). Take a taxi from the airport to Phedi (3,707 ft). From Phedi it's time to start trekking, but only for a couple of hours. Walk to Pothana (6,236 ft) and stay for the night.
We were excited and up early to check out of the Kathmandu Guest House. Checking out and storing extra baggage and changing money was time consuming. John and Kusang met us at the Guest House and helped with the final details. John wished us a good trip and sent Kusang, Larry and I on another wild taxi ride to the airport.
Waiting for the flight was interesting. To get to the "waiting room", women have to go through one curtain - men through another. This turned out to be the airport security. But no one was beyond my curtain. So I just walked through - though there was a long wait for the men to get through the other side. Eventually people were all huddled in one great room waiting for 5 or 6 flight. A woman stood at the door and called out flights. Those who heard would go out and get on a bus and head off for their plane or helicopter. Our flight to Pokhara was only 40 min. The Himalaya opened up below. Machapuchhre was visible as a single peak from Pokhara - almost a spire on the skyline. The fishtail shape is not visible from this angle.
Kusang ran off to hire a porter and came back with a young boy named "Gopal" who appeared to be in his late teens. Kusang says he is 22. He was our sole porter - carrying about 60 lbs in his basket. We again put our lives into the hands of another taxi driver and drove some 30 minutes to Phedi. As we drove to Phedi we passed a small town with about 200 people and 500 goats. The goats don't know they were all headed for slaughter.
At Phedi we stopped for lunch - potato curry - which was a kind of soup with cabbage and potato - delicious. Then we began to climb - initially it was very difficult because the trail was steep - almost stairs of rock - and the weather was very hot. But as we got used to it the trail and learned to climb slowly and regulate our breathing, the hike became easier. Every 20 minutes or so, there was a stone ledge built for porters to rest their loads. We were grateful that our porter took advantage and rested often.
As we walked along, Larry practices his Nepali with Kusang. Larry obtained the Stephen Bezruchka tape in Sante Fe and to my surprise knew some phrases. "Tapaaiko photo khichu" (May I take your picture). I always had a hard time pronouncing "khichu" - when I said it, it sounded like I was sneezing. "Yo baato dherai ukaalo chha. " (This trail is very uphill). "Yo baato dherai oraalo chha" (This trail is very downhill - not much of this yet).
It was very hot and sunny as we climbed. The temperature was likely around 30 C and we were all sweating heavily. I discovered that a scarf was an absolute requirement - fortunately I remembered mine but had to dig into my duffel bag which was on top of Gopal's "doko" (the basket in which he carries our duffel bags).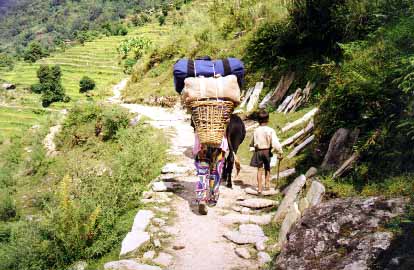 As we walked along, I met a very well-spoken Nepali gentleman who was returning home from Kathmandu to his hometown of Dhampus for the Dasain holiday. He's just completed college and hopes to be a high school teacher. He pointed out rice which was ripe in the fields and ready for harvesting. He was traveling with others who were bringing two goats to Dhampus to sacrifice and eventually eat for Dasain. Dasain is a Hindu holiday which goes on for some 10 days. The primary part seems to include sacrificing animals and putting lights up in the houses. We haven't seen either yet, but the holiday is just beginning.
As we hiked through the town of Dhampus, I took pictures of the high school for my sister, Barb. Taking pictures of schools became a habit for me on the trail. Finally, after passing many "walking trees" (Nepali carrying tree branches on their back), we reached Pothana.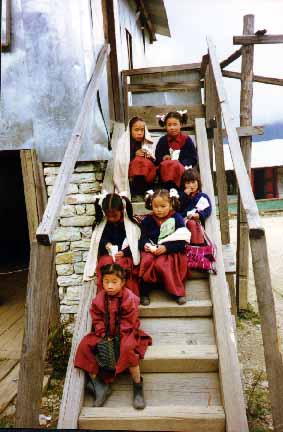 We have a little room in the Pothana Guest House. From our table at the guest house we can see the sunset striking the fishtail of Machapuchhre. But Larry still can't figure out what the 'fishtail' is all about, no matter how many times I point it out to him.
Thursday 9 October - Hiking Day 2
Climb to Landrung(5,135 ft) through forests and villages of Gurung people. Nice views of Machapuchhre (whose name literally means fish-tail) as you reach local high spots along the walk.
We were up at 6:00 a.m. which is not surprising since we went to bed at 7:30 last night. Today's hike was very easy - a bit of uphill, then downhill, then relatively level hiking. We trek along sometime ahead, sometimes behind, porters with a trekking outfit. Their bright blue duffel bags with white "Exodus" emblazoned thereon are visible up and down the trail. My guess is that it is a British outfit. We pass through Deorali, ate lunch in Tolka - curried pumpkin soup. "Mitho chha" (It is tasty).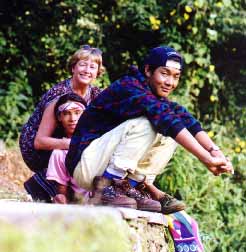 For a time, I felt foolish with both a guide and a porter, but I think we will appreciate having a porter. I notice that wherever we go - Kusang always puts us in a higher table - one with a view and he and Gopal go down to eat or visit with the owners.
We arrived at Landrung around 1:15 in the afternoon and have a room in the Maya Guest House. The lodge is self-described as having a "panoramic view of excellent Gurung Valley". Kusang and Gopal sat on small wooden chairs in the courtyard playing a game called "carom". This is a board game which involves flicking little round pieces of wood into open holes at the four corners of the board.
We discovered two huge 4" black spiders on the wall of our bedroom. Both spiders resided in the room, and we were just guests. So we let them live. Larry chased them back into the woven bamboo mat on the ceiling. I awoke in the middle of the night and shone my flashlight on the wall. One of the huge spiders has returned. It sat on the wall at the foot of my bed. A voyeur. I wondered where the other one was.
Friday 10 October - Hiking Day 3
Farther north and gaining some altitude, to the large and interesting town of Chomrong (7,119 ft).
I ask Kusang about the spiders and he says "not dangerous". Somehow that is comforting.
From Landrung we traveled downhill to cross New Bridge and then up again to a little village with no name but a very merry old innkeeper. He was rattling on in Nepali to 7 or 8 American Peace Corps fellows. And they were chattering back. They were heading into the Sanctuary to climb Tharpuchuli (Tent Peak- 5,663 m). The Peace Corps workers sat and began to eat enormous quantities of dhal bhat. "Bhat dinos. Dhal dinos". "Dhal bhat man parchha" (I like dhal bhat). They kept calling for more dhal or more bhat. 'Dhal' is rice and 'bhat' is lentils, and the dish is usually served with 'tarkaari' which are vegetables usually kale, spinach, potatoes or cabbage. Just as they began to eat a group of 10 or more Korean girls arrived. Some were nurses and others were teachers. The Koreans played card for a time, talked in Nepali to the innkeeper and then formed a chain and began giving back rubs to one another. The old innkeeper leaped down in front of one of the girls and then another of the Korean girls sat in front of him. He began to rub her back and then her head. Everyone was howling with laughter.
Then much uphill to Chomrong and the New View Top Lodge Restaurant. Here they have a huge square dining table and we met 2 Spaniards and an American who studied in Madison Wisconsin and who was awaiting bar exam results from California. I taught Larry to play gin and he taught me poker. Early to bed again. We wonder why our bodies need the 12 hours of sleep we seem to be getting every night.
A word about names of towns. There seems to be no standard spelling of many words in Nepal, probably because their language is written in a Sanskritized form. The English translations of Nepali place names, even within one town, vary greatly. Landrung is sometimes Landruk. Chomrong, is sometimes Chomrung, or Chomro and sometimes more than one 'h' is used in the name.
Saturday 11 October - Hiking Day 4
Cross the 3,000 meter (10,000 feet) mark today, and stay at the charmingly named Bamboo (7,660 ft).
We arise early again to Tibetan bread, eggs and coffee. To reduce our load we've decided to leave a bundle of extra clothing and goods behind in Chomrong and we will pick them up later after our hike into the Sanctuary. This will reduce the load for Gopal.
Today we are off to Bamboo. The hike was hot and much of it is through a forest. We watched monkeys or lemurs battling in the trees along the way. It was much too hot for hiking.
We stayed at a reasonable lodge in Bamboo and played cards...teaching solitaire to Kusang and the lodge owner. The lodge owner got quite excited by the game.
I'm learning some Nepali however I seem to make Kusang laugh a lot. He particularly liked "ABC -maa malaai boknos" (Please carry me to ABC). What can I say. It was one of the phrases in the Bezruchka phrase book and it seemed to me to be a good one to learn. I ate dhal bhat for the first time...too much food...I was quite full and my tummy hurt last night but two divol seemed to do the trick.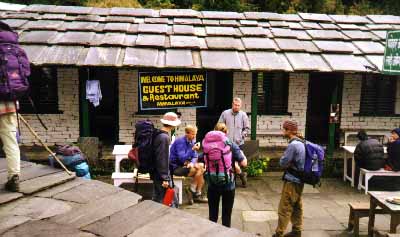 Sunday 12 October - Hiking Day 5
Climb higher today, still close to the river. Stay at Deurali (10,597 ft). Even though you are below 4,000 meters, the mountains are very close, and very spectacular.
Tea and Tibetan bread for breakfast helped my tummy further. This was quite a stiff uphill hike today - especially towards the end. But after a short rest and hair wash, I wanted to hike further. I went off by myself for a further hike of 1 1/2 hrs up towards the Sanctuary. I met Nema Sherpa and honeymooners. Nema exclaimed that he too was a guide for Friends in High Places and showed me his pass. I was very pleased to meet another guided group by the same folks. Later in the afternoon I washed clothes and hoped they would dry by tomorrow - especially my trousers.
We are staying in a lodge with a group of American Christian missionaries and their children. They live in Kathmandu and are taking holidays as this is Dasain holidays for them as well. Larry says he's still having fun. I guess tomorrow is the BIG day - into the Sanctuary. Everyone refers to the two camps as MBC (Machapuchhre Base Camp) and ABC (Annapurna Base Camp). Kusang says we will go to MBC, but I'd like to push on to ABC if possible.
Monday 13 October - Hiking Day 6
Machapuchhre Base Camp (12,139 ft) today. Now you are totally enclosed in the great Himalaya.
Today began in beautiful clear blue skies. We hiked to MBC in 2 1/2 hours and stopped for a rest. Kusang said we should stay here for the night.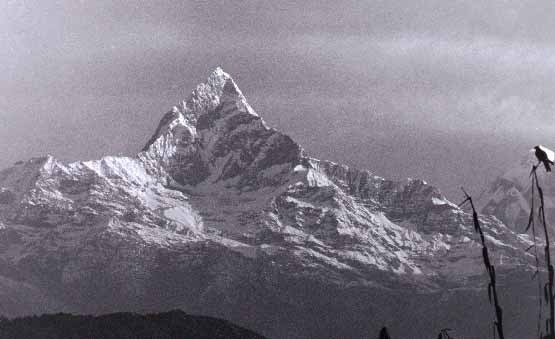 Larry and I decided to push on for a dayhike to ABC. Kusang wanted to know if we wanted him to accompany us, but I told him no. Larry and I were warned to go slowly. We did. Larry kept saying how the hike reminded him of parts in the mountains of Colorado. We watched a very large bird - possibly an eagle - riding the air currents - almost hovering in the air over the right ridge. ABC is a hard climb - not steep but the altitude made even a small gradient difficult. Made it to ABC in 2 hours but during that time clouds came in and there were no views. We stopped for tomato soup and apple pie and met more Canadians. Then we dressed warmly to return to MBC. At the bottom of the stairs to the lodges at ABC, I saw Kusang coming to find us. He said he walked up in 1/2 hour. He took my pack and we returned in about 45 minutes or less.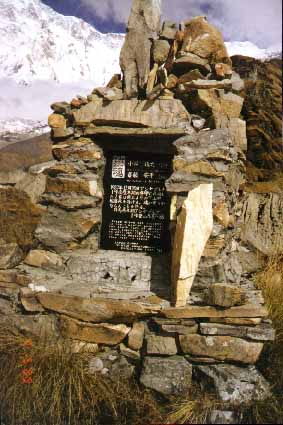 It's very cold outside - even in the dining room. The table however is warm with a heater under it and wool blanket to cover the table edge to the ground - you stick your feet under the table to warm your legs. Around 5:00 it's getting dark - though still misty even foggy outside. Visibility is nil. Larry and I play cards for a while then read. The smell of cooking food fills the air. Around the big table with Larry, me and Kusang sits 3 American Peace Corps workers (Frank and two women), two small Nepali children playing cards with our porter Gopal, two other porters and another American.
Tuesday 14 October - Hiking Day 7
Head the Annapurna Base Camp (13,550 ft) today, only two hours away. This short day will leave plenty of time for exploring.
The hike up was much more difficult than the day before. Perhaps this was because I had a large meal before going up. Eating and hiking don't work well.
At ABC we walked to the edge of the glacier and checked out the cairns to climbers lost on the mountains. I tried to find the cairn to the two women lost on the American Women's Annapurna climb, but couldn't find it. I found instead a lovely small cairn which faced Annapurna. It almost had a Japanese elegance with a prayer flags wrapped around it and wonderful placement of rocks atop.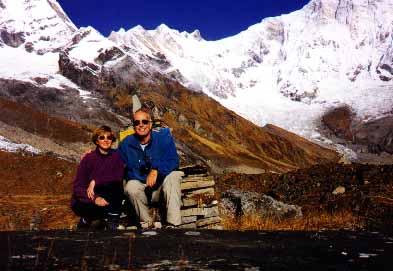 I stayed there alone for quite some time, enjoying the privacy and the peace. We stayed at Paradise Hotel - the topmost 'bhatti' (lodge) in the compound. At the dining hall we met up with the Peace Corps climbers who were playing bridge, 4 Israeli whom we'd met earlier on the trail (awful) and a mixed bag of other hikers. The Israeli's demanded that Kusang get them their food. Kusang was very obliging towards them. I became annoyed with their continual demands for service by Kusang and notified them that he was our guide and not hired help in the lodge. It didn't bother them in the least. I was incensed by the feeling that they believed if a person wasn't white, then that person could be ordered about to serve them.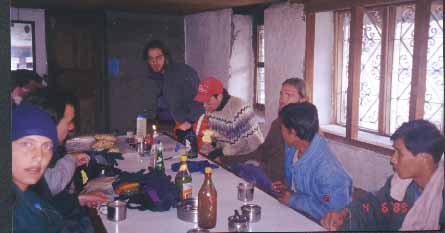 No problems sleeping here but I had wild dreams. Somewhere I read that might be a side effect of the elevation. As we left ABC we saw a prostrate hiker lying on an outdoor bench. We met the missionaries who had come up the day before from Deurali with their young children. The father told us his youngest son got altitude sickness and he and his son had to go down to MBC the previous night. He said Kusang must be an excellent guide as he had us stay at MBC but dayhike to ABC and back to MBC to help acclimatization. He thought that was why we were feeling so fit and were having no acclimatization problems.
Wednesday 15 October - Hiking Day 8
Descend all the way past the ABC and MBC and below 4,000 meters. Stay at Bamboo (7,660 ft).
Up early to see the sunrise strike Annapurna South and then Annapurna 1. We found my special cairn and took many pictures there.
We left at 8:00 a.m. to hike back down. At Bamboo, we ordered dhal bhatt again and waited and waited for dinner. It got dark and finally someone lit a lantern.
A whistling older Brit name Eric arrived with his porter. Eric's porter seems to know all the card games. Gopal also seems to know every card game - he stops to watch players all along the hike. He is the first to begin a game in the evenings. We warn everyone that he is a card shark.
Suddenly there is a loud commotion outside. Someone grabs the lantern throwing the room into darkness. Candles eventually come out. A bunch of the men rush out and much noise and commotion ensue. Eric's porter explains that there is a thief and something about "estones". It turns out that the owner has porters who were coming up with a load of eggs and bottled water in the dark. Just past the permit checkpoint someone began throwing stones at the porters. They were frightened and dropped their dokos and ran up to the lodge. The lodge owners at Bamboo got together to retrieve the dokos and find the culprit. The next thing we know a man is brought into the lodge and there was much kicking and slapping and hitting of this man. One man brings out a bamboo stick and beats the man. The other men were yelling and shouting and apparently cursing the man. He just stood there with his head hanging and his hands together. Much pointing towards the tourists and yelling in Nepali.
Larry, Eric and I and our guides sat there in stunned silence eating our dhal bhatt. We were dumfounded by all this. The story unfolds that this is the man who threw rocks. Why he did this is not clear. The shouting goes on for an hour - at which point the lodge owner tells us that all the owners have gathered together at the lodge to deal with the rock thrower. Beer is ordered by the lodge owners and they and the rock thrower all drink beer while the berating continues. The idea that they all drink beer together while this screaming continues to baffle us. Larry and I finally go to bed, but next door some Nepali men and women continue to talk loudly well into the night. Things finally settle down around 9:30 and we finally sleep.
Thursday 16 October - Hiking Day 9
Back to Chomrong (7,119 ft) today.
Up for breakfast of coffee and shared an omelet with Larry. Then a long hike to Chomrong. From Singala the hike is down hill to the bottom of the hill at Chomrong. There is an incredible set of stairs through this town, maybe 1000 ft. in elevation. In fact, throughout the rest of the hike, even into Kathmandu, whenever we saw a set of stairs, we would groan and say "Chomrong". We climbed the stairs, cursing because Kusang always chooses hotels at the top of hills. But we had been to this one previously and liked it - Excellent View Top Lodge and Restaurant. The owners are in the process of painting their hotel sign right now.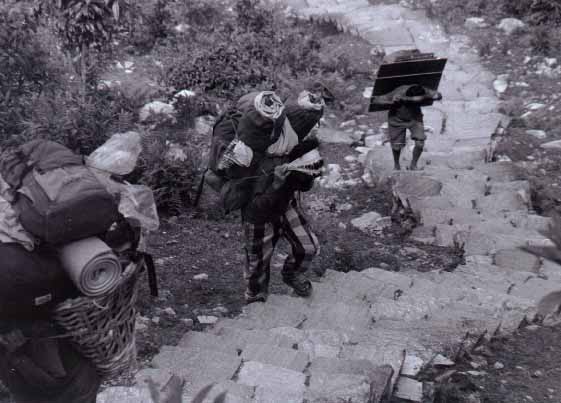 We got here hot and tired. I immediately began washing my clothes - I'm not sure they will dry by morning. We order beer and pizza - it was wonderful - very filling and covered with yak cheese which is quite tangy. Then a lovely warm shower.
I sit on the ledge by the Hotel and meet the American Peace Corps fellows as they pass by. They were unable to do the climb as their leader came down with altitude sickness at ABC. I feed them chocolate covered coffee beans and orange flower pastilles. We talked to most of them - Larry got their names. Perhaps he can do an article on them. We talk about visiting Patrick Grady's village of Newakot located in Newakot District.
Larry and I are so impressed with Kusang and Gopal. Kusang is always asking us what we want and is forever running to the kitchen to get us our food or beverages. He serves us. Then he helps the lodge owners serve others. He always wants to help me with water filtering or whatever task is underway. Gopal and Kusang both help the Nepali lodge owner's young daughter with her homework. Gopal has been climbing under the table all evening to help pump up the heater.
Friday 17 October - Hiking Day 10
A shorter, easy day to Ghandrung (6,362 ft), a large and prosperous town home to many retired British Gurkha soldiers.
From Chomrong to Ghandrung there is a great downhill trail to the bottom of the Kyumnu Khola then up again the same elevation and over a hill and onto a fairly level trail to Ghandrung. Again, there seems to be a great variation in the spelling of the names of this town...I am trying to be consistent but failing in my diary. Ghandrung, sometimes called Ghandruk, is the capital of the Gurung people. It's a large town with many small alleys. Although spread over a large area it did not have the incredible elevation change of Chomrung.
We stay at the famous two story Milan Hotel. Posters for this hotel plaster every bhatti from Landrung to ABC and back. The hotel has electricity and real western toilets. It is run by a young son and his father. The son, possibly 25, wore tinted glasses effecting western wear. However, he or is father, is traditional enough to hire a man who spent all afternoon in the courtyard working on an elaborate set of papers to forecast the son's horoscope. The son becomes very animated and annoyed with 3 French hikers who were clearly stoned and he threw them out of the hotel yard.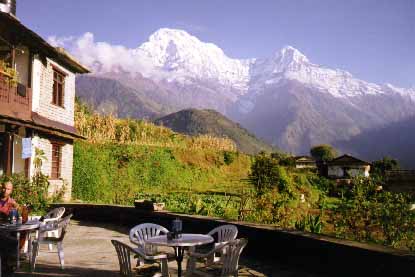 Larry, Kusang and I go to visit the Ghandrung Museum which was quite interesting. I tried on some dokos and they are comfortable to wear when they are empty. Much of the housewear is made from bamboo or wood but tea cups appear to be of brass.
That evening I saw mustang coffee on the menu. Mustang coffee is made with "rakshi", the local home-brew - any distilled liquor with a grain base. The first step is to pan fry the coffee with sugar and a little cumin seed, then add the rakshi. I had heard that rakshi was banned by the Mother's Committee in Ghandrung and was surprised to see this drink on the menu. The owner's son had previously told me that his mother was the head of the Mother's Committee. I asked if she would be annoyed with me if I ordered the mustang tea. He said "no, Dasain is over, it was only banned during Dasain". This was my first encounter with local alcohol and it was pretty good.
At the end of the evening the owner invited all the tourists to the courtyard to view the sun setting on Machapuchhre. This appeared to be a polite way to have the dining room cleared so that the guides and porters could begin to eat their dinner.
Saturday 18 October - Hiking Day 11
Head out of Ghandrung for another short day on mostly level trail. Stay in Tadapani (8,514 ft).
I tried some of Larry's chili salve, Dolorac.25, for my knees last night and it burned all night until I got up about 3:00 A.M. and washed my knees off. I could feel the warmth on my knees when I was walking to Tadapani and had no difficulties.
Today was a delightful trek through jungle. I was set to continue on when we reached Tadapani but Kusang says were are to stop here. Who am I to doubt our fearless leader.
But it's damn cold here. I put on all my warm clothing because it's overcast - almost foggy and very cold. Colder inside than outside. Larry bought a warm Tibetan sweater and toque for $25.00. He figured that he got a pretty good deal. I played with a little child in the market while Larry shopped. I really hate the bargaining that goes with shopping in Nepal. The sun is trying to shine through the cloud - it would be good if it could because it's very cost and we have wet clothing which needs to be hung up to dry.
Sunday 19 October - Hiking Day 12
A very pleasant day, mostly contouring around the hills and on through rhododendron forest to Ghorapani (9,022 ft), which means Horse Water. It was an important campsite for traders before becoming a trekkers' stop. There are two parts to this town - one in a saddle and the other a few hundred feet lower.
Shortly after leaving Tadapani we came upon a view through the trees to Machapuchhre. It was quite magnificent. The hike from Tadopani to Ghorapani is uphill, especially one part which seems to be a long climb up a waterfall. It was very wet and seemed endless. The uphill climb was supposed to end at Deurali, where we stopped for lunch. But it did not.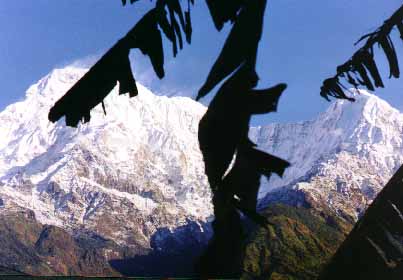 We met another sherpa with Friends in High Places named Dawa who is a nephew of A.D. He is an actual nephew, because his father is a brother to A.D. Dawa is guide for Liz Kelleher, a Canadian traveling alone from Brandon, Manitoba.
Once we left Deurali we walked for some distance along what appeared to be the top of an esker-like land formation. The formation could not be an esker as this area has never been glaciated. Mist surrounded us on both sides.
This is an area where tourists are warned to travel in numbers for fear of bandits. I kept watching in the trees and along the path, believing that we might be ambushed by bandits at any moment. The closest we came was meeting two men who looked pretty mean. But I just smiled and "namasted" them and they "Namasted" me back. I like to think I charmed them into not attacking. I was quite certain that one carried a huge machete or khukuri wrapped in cloth, and held with a tumpline around his forehead.
We are staying at the Hill Top Lodge in Ghorapani and presumably we are close to Poon Hill. The owner is named Pun and he was a sergeant in the Indian Army. The walls of this lodge, as is the case in many of the lodges, are covered with posters of thatched houses with incredible gardens along with phrases like "Thanks for being a friend" and "God bless you with his love and make every day a joy to live". This is the first lodge which is heated by wood and it is very pleasant to avoid that awful smell of propane or kerosene.
There are a large contingent of Japanese tourists here. Apparently they are led by an old master artist and many are his students. They are sketching Mr. Pun and his children. It seems like a much better way to keep your memories than snapping a photo. I must remember to suggest this to my daughter Heather and her friend Angela if they ever travel this way.
Liz and Dawa along with their porter Mohan, who is from the Solo region of Nepal, are staying here. Liz has been entertaining the Japanese with her juggling. This evening the Japanese have arranged for a group of Magar women to sing and dance for us. For a long time I thought they were was a group of local mothers. It was quite a jolly evening and towards the end, the tourists were encouraged to dance along with the Nepali. I joined of course.
Monday 20 October - Hiking Day 13
Up before the sun to climb Pun Hill (10,476 ft) for spectacular views of Machapuchhre, Dhaulagiri, Nilgiri, and the Annapurnas. Then downhill, giving back all the elevation you gained yesterday. Overnight at Tatopani (3,904 ft), a charming town with hot springs.
We are up very early this morning. In fact it seemed like we didn't get much sleep. The party went on for some time after we went to bed. And our room was closest to the dining hall.
Kusang woke us as usual with a quiet rap on the door. We sleepily dressed and walked out of the lodge to begin the walk up to Poon Hill. Kusang was the only member of the party to remember to bring a flashlight. It was very dark and the hill not evident...only the stairs and trail in front of us, ever upward. For a time I thought we were alone on the hill, but I as I slowly awoke I heard voices ahead and behind, a steady stream of trekkers moving like a pilgrimage up and up. Very slowly the hill took shape as we slogged along. Once we reached the summit there was a virtual convention of tourists, probably over 150 awaiting the sunrise.
After the hike it was very cool standing about and we pulled out our warmer clothing. A local entrepreneur began to sell tea and hot chocolate at prices that astounded most of the throng. We couldn't care less about the cost...the warmth of the hot chocolate was worth the price.
As the light began to grow it became apparent that for the first time since we began our hike, the morning would not dawn with clear skies. It was overcast and dreary and there was no spectacular view of the Annapuranas. The hike back down the hill was pleasant and the breakfast very welcome.
I walked alone for part of this day and found that the local people were more friendly towards me than when I hiked with Larry and Kusang. I was often greeted, especially by young Nepali men, who would smile and say "Namaste Didi". I was puzzled by "Didi". Kusang explained that it meant older sister. For a time I pretended that I was a brave solo woman trekker and I thoroughly enjoyed the knowledge that this hike could be done alone.
The hike from Poon Hill to Tatopani is an incredible drop of 6600 ft. The last 1000 ft. to the Kali Ghandaki is especially brutal. We met up with Liz and Dawa at the last rest stop before the river located on a piece of land which juts out from the hillside.
We sat in the shade of the rest stop and admired the views up the Kali Ghandaki and down the Ghar Khosi. We talked for a time with two Hindu men who were serving Coke and Fanta at the rest stop. They seemed to find it difficult to believe that Larry was not my "shriman" (husband) but only my "saathi" (friend). They insisted that he should marry me. They wanted to know our ages and then told us their age. This was not the first or last time we had this same conversation with Nepali men.
We crossed a large suspended bridge over the Kali Gandaki and I had the feeling that we had finished one part of the hike and were now venturing onto the second part.
As we passed through Tatopani, Kusang met some guides or porters that he knew who worked for FIHP. They been working on a climb of Dhaulagiri and were on their way back to Kathmandu. We prevailed upon them to take some of our gear with them, because we were carrying far more than we required.
We stayed at the Namaste Lodge and were surprised to find Liz, Dawa and Mohan were staying there. Larry, Liz and I sat and drank beer for some time on the beautiful tree-shaded courtyard of the lodge. It was summer and we were hot and very thirsty.
Larry and I walked down to the Dhaulagiri Restaurant which is famous for good food. The wife of the owner was trekker from France who found love in Nepal.
At 8:30 in the evening Kusang asked if we wanted to go to the hot springs and Larry and I followed Kusang and his flashlight over a very rough path along the river. The hot springs were empty...we had them all to ourselves. Larry had developed a cold so we decided to spend the next day resting at Tatopani.
Tuesday 21 October - Hiking Day 14
Resting day at Tatopani.
Liz has decided to move on today and the whole place has quieted down. We decide to rest so Larry could recover from his cold. I did a large wash in cold water and noticed that the line was already covered by the laundry of Gopal and Kusang. It never fails to amaze me how both can look so clean along the trail while we look quite bedraggled.
I read for a while by the Kali Gandaki. The rocky shore is littered with garbage...much of which stinks. It was hard to find a place where the prevailing wind would blow away the smell. Nepal has not reached the hygienic state where travelers pick up their trash. Compared with our mountain trails, we appear almost obsessive in our need to keep the wilderness clean. It is quite distracting at the beginning of the hike, especially because you are often watching where you place your feet. But by this time I totally ignore the mess and I've become sure-footed enough to raise my eyes to look at the mountains.
I had my usual problem with constipation today but read in Bezruchka's book on Nepal that you shouldn't take meds. He suggests, "just let it work it's way out". And it did.
Wednesday 22 October - Hiking Day 15
A spectacular day going north along the Kali Gandaki, much of it spent with open views high above the river. Pass waterfalls, and then enter more forest. Stay in Ghasa (6,594 ft), a lovely town of stone buildings and walls.
We walked to Ghasa today - the walk was pleasant and level along the river.
We met Jim and Sharon Boothman at the waterfalls near Rupse Chhahara (5,249 ft). Jim was a childhood friend of my former spouse and they had been the only witnesses at our wedding. I had been keeping my eyes open for them since Tatopani as they had left a message for me at the Kathmandu Guest House that they would be doing the Annapurna Circuit at the same time as us, but from the opposite direction. I spied them from some distance as they were getting up from tea at a restaurant above the waterfalls. Sharon was wearing a legionnaire hat which looked odd in Nepal. Jim's white beard stood out for miles. We stopped, chatted, took pictures and met their guide/porter named Wongdi, who hails from the Kachenjunga region of Nepal. Wongdi also sported a decidedly odd hat - a camouflage Australian bush hat. He spoke excellent English and seemed very friendly with both Jim and Sharon, calling them both by their first names. It turns out Kusang knew Wongdi as they had worked together on a climb.
We asked Jim about crossing Thorung La. Virtually all the tourists we met were traveling the same direction as Jim - counterclockwise around the circuit. We had heard many horrendous stories of the pass and warnings from everyone (except Canadians) that it would be almost impassable traveling from this direction. Jim said he thought we would be all right. He said that the day they climbed over was brilliantly sunny but very cold and his feet were so cold he was very worried about serious frostbite. (He later told me he was worried about whether we could make it.) We talked about possibly meeting later in Kathmandu or on the Everest hike. It was pretty strange to go half way around the world and meet someone who had played an important role in your western life.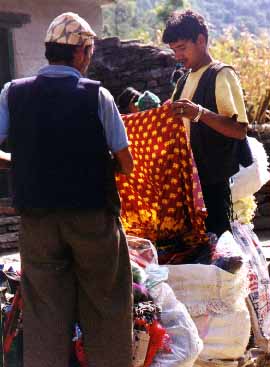 We often came across porters carrying dokos full of trading goods which they sell to locals along the trail, a sort of travelling marketplace. We pressed on for Ghasa and stayed at the Eagle's Nest. This was a nice, clean two-story bhatti with excellent food (I thought). I had a good night's sleep.
Thursday 23 October - Hiking Day 16
Up the Kali Gandaki to stay at Kalopani (8,300 ft.) Explore the Dhaulagiri ice fall.
Larry is sick today with stomach problems. He's really struggling along the trail and it makes you feel pretty helpless when you can't make it better. We stopped for apple juice made like apple julius...they were a culinary highlight of the trip. But eventually Larry became so unwell that we had to stop.
We've decided to stay at Kalopani as there is a really fabulous lodge here, complete with a manager dressed in a suit. I insist on the very best room...with an attached bathroom. Electricity, running water. Luxury. I'd met a husband and wife team of Nepali doctors who were also staying at the lodge and who were on a pilgrimage to Muktinath. I directed them to Larry's room. Kusang and I decided to hike up to the Dhaulagiri Icefields and we left Larry with two Nepali doctors sitting on his bed attending to his needs.
Kusang and I spent the afternoon walking to the base of Dhaulagiri below the icefall, but didn't bother climbing as the weather was coming in and nothing was visible 100 ft. up the mountain. On our return, we met two Australian nurses who called me over to give me medicine for Larry. Word has gotten out about his illness. He was feeling much better but decided to stick with boiled potatoes for dinner. That was a shame because the food here is quite delicious.
The Pine Forest Lodge is a training lodge for the Dhaulagiri Technical School. This lodge trains Nepali to operate a lodge and to cook and serve food. I didn't see any Nepali women serving food or looking after guest - only men. However we met Tina, an English woman who trained as a hotel manager in England and who was hired by the School to train the Nepali. She had been living here since January 1997 and was planning to stay on until next summer.
Friday 24 October - Hiking Day 17
Rest day at Kalopani.
Kalopani is surrounded by a dense forest of coniferous trees and really is quite different from any other place on the trek. It seems like a small piece of Vermont was plucked out of the USA and dropped in Nepal.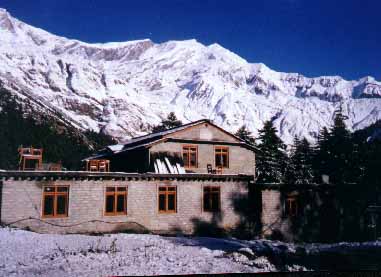 We had planned to travel on today, but woke up to an incredible snowstorm. One of those huge, soft, wet snowflake storms which only occur on absolutely windless days. It was just cold enough that the snow wouldn't melt. It just kept accumulating and it seemed that many tree limbs would break from the weight of the snow. We lay in bed reading and resting until noon (check out time) but the snow was still falling with no end in sight. We decided to stay on another day at the Lodge and went down to the dining room to read our books.
We spent much of the afternoon and evening with Tina, talking about the running of the lodge and life in Nepal. She told us about the King and Queen of Nepal attending the opening of the lodge in February 1997. They flew in by helicopter for a 1 hour 15 min. visit to observe the operation of the school. However, local dignitaries decided to present a receiving line so that they and their friend and relatives could meet the King. The receiving line was so long that it ate up all the King's time and he didn't get to see the operation of the lodge. Tina said the local women insisted that she dress up in the local Nepali dress. They refused to allow her wear her sneakers and found some Nepali footwear for her. As it turned out Shruti, the princess (age 21), who accompanied her parents, was dressed in a beautiful sari and hiking boots. Tina was at the end of the receiving line and forgot to say "Namaskar" (the more formal greeting) and only said "Namaste". King Birendra, who was educated at Eton and Harvard, did not seem the least concerned.
Saturday 25 October - Hiking Day 18
The Kali Gandaki river valley opens up to a broad flood plain. Continue north to Marpha, a prosperous multi-level village of Thakali people, built into the side of a hill almost pueblo-like. The distillery here makes potent fruit liquors reminiscent of eau-de-vie. On to Jomson (8,891 ft), the district headquarters. There's an airport here.
This was the best hiking day ever. The ground is white with snow and the sky crystal blue clear.
At this point we are in the world's deepest river gorge, the Kali Ghandaki (8,000 ft). To the left is Dhaulagiri (26,795 ft) and to the right on the other side of the river is Annapurna I (26,545 ft). Only 38 kms separate these two mountains. The mountains are so high that it is impossible to comprehend the depth of the gorge until the valley opens up to a flood plain past Khobang. Only then can you look back to see the incredible height of these mountains.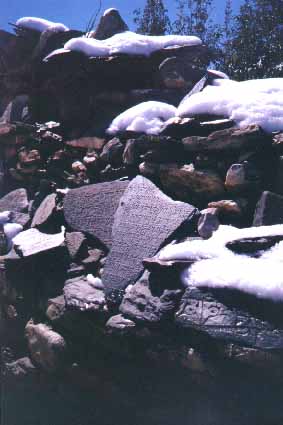 For the first time on the hike there was no up or down hill. We walked in the flood plain of the river. We had some excitement crossing various braided streams of the swollen river. Gopal didn't bother to remove his shoes or roll up his trousers. He did however take off his socks when they got wet. He marched across rock and river and we lost him for a time. However we met up with an Austrian solo hiker. Gottfried, an Austrian postman, dreamed of trekking in Nepal as a young boy. He saved his earnings for many years to make this dream become reality. He walked with a perpetual grin on his face. He kept saying he couldn't believe it was so beautiful. Kusang helped Gottfried and Larry cross a stream over a fallen log and thereafter Gottfried fell in with us. Larry borrowed Kusang's flip flops and walked through the melting snow and icy water. I was not prepared to get my boots wet and each time we came across a stream, I removed my shoes and walked barefoot through the freezing water. My feet began burning with the cold. Gottfried said that some Austrian priest recommended freezing water as treatment to warm body parts.
We stopped at Marpha where the fruit trees appeared very damaged by the snow storm. Many limbs had broken from the weight of the snow. The restaurant owner told us the storm was very unusual at this time of the year. We again tried the apple julius but unfortunately we never tried the fruit liquor. Marpha appears to be a town composed half of distilleries and the other half ordinary folk. We were particularly struck by the architecture of the homes which appeared to have a pueblo-like structure and texture. We found Gopal in the town of Marpha and we decided to move on to Jomson for the night.
Near Jomson we came across a ridge which was literally covered by flying bird, we thought they were eagles. There must have been over 50 of them swooping and flying along the hillside. We stood for a long time watching the birds.
The muddy main street of Jomson reminded me of Inuvik in the boom time. The airport in Jomson is quite unique with prayer wheels on either side of the entrance to the airport. We found that particularly hilarious.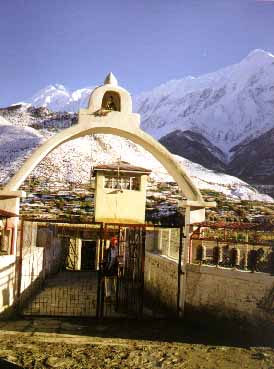 The hotel we stayed in was close to the airport and the choice was a good one. We were the only tourists in the hotel and had dinner with the owners two children, both boys. The elder one was home from school in Kathmandu for the Dasain holiday. He read and spoke English quite well. The younger child, around six, was delighted with my postcards of Canada. I decided to try out the postcards as a method to talk with the children. I simply put the cards in the middle of the table and I could watch the curiosity of the children build until they began to thumb through the picture. They were mostly of Canadian animals. I invited the youngest to chose for himself one of the postcards. He looked through the cards very carefully, stopping at the grizzly bear and elk and buffalo but finally decided to chose a creature he knew - an eagle. For a very long time he waived the postcard about, soaring and swooping above the dining room table and flying about the room, just as the eagles had done on the ridge near town.
Sunday 26 October - Hiking Day 19
Walk up the Kali Gandaki valley to Kagbeni (9,186 ft). This dusty town is relatively unchanged by trekkers, and sits at the border of the Mustang region. This is another short day, but good for altitude adjustment as Kagbeni is at about 3,000 meters. Look for fossil snails ("shaligrams" to the Nepalese) in the riverbed north of town. Some of them are nearly a foot across!
We decided to go back to visit the museum in Jomson before traveling on to Kagbeni this morning. It had been closing as we arrived in town yesterday and was highly recommended by the missionaries we met on the trip to the Sanctuary. Of particular interest was the library of folk medicine remedies and herbs, however the cultural exhibits were also very well done and interesting.
The walk from Jomson to Kagbeni was almost surreal. We very quickly entered a barren, dry, desert-like country along the Kali Gandaki. At times it seemed like we were in the American south-west. The spoken language is similar to Tibetan and it was suggested that this area was once part of Tibet and there are caves on the hillside on the other side of the river which apparently were used by Tibetan fighters in the recent past. It has only been incorporated into Nepal within the past few generations.
As we walked along we came across a Buddhist shrine and Kusang invited us to put a stone on the shrine for good luck. I put a very tiny stone on the shrine and said a prayer for good luck in the crossing of Thorung La. Larry found a set to goat's horns and Kusang indicated that they were very lucky so he added them to the shrine.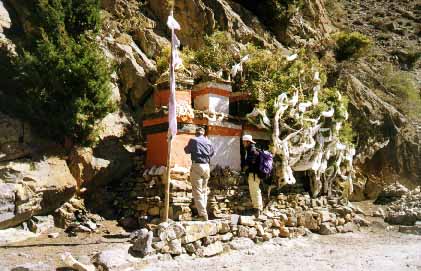 We came across a small village called Eklaibhatti, which means "lonely teashop" but it had obviously grown, since named, to include a number of new lodges with amazing names like 'Hill Ton" and "Holiday Inn". For the first time we came across Tibetan ponies in full costume parked outside the hotels. I suppose that parked is the appropriate word because it was the only means of transportation available in this area. We decided to stop for tea. There we met up with Gottfried again, the two Australian nurses and the husband and wife doctor team in the tea house.
The short cut to Muktinath is just past this village, but we hiked on to Kagbeni where it was clearly autumn as the townfolk were out in the surrounding small fields harvesting the grain by hand. The fields are built in terraces surrounded by rock fences. In the field we saw folks threshing grain using flails - long wooden sticks with an attached head which swung around in the air. The grain was collected on a blanket and then tossed in the air from a large circular baskets so that the chaff would blow away in the wind. Sheaves of grain were tied in bundles and men and women carried these bundles on their back to town to feed their animals. The bundles were so large that from the rear these people looked like walking hay stacks.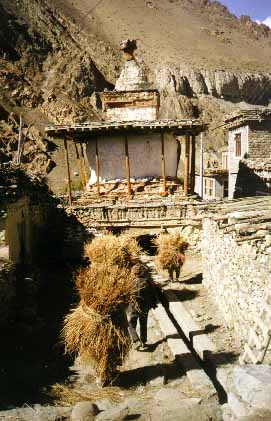 We stayed at the New Dhaulagiri Lodge. As we entered the lodge we passed a dark room on the right, light only with candles, in which a Buddhist prayer service was in progress. The room was full of 20 or more monks and their rhythmic droning chants accompanied by drums, bells and horns filled the air. Basically this lodge had a small chapel in a building with a full blown service in progress. We checked out our rooms and put away our luggage and asked Kusang if it was possible to return to watch the Buddhist service. Kusang spoke with one of the monks and told us we could come in. We removed our shoe and sat in the dark room and were overwhelmed by the smells and sights and sounds. Butter lamps flickered in all the corners of the room and provided the only light for the monks who sat on the floor along the walls of the room. On low tables before them, their prayer books of long hand-scripted pages lay open. The monks were chanted stories about the life of Buddha from those pages. Shortly after we arrived they stopped for lunch. We were invited to join and served Tibetan tea made with salt and yak butter. It tasted dreadful, but the chang (Tibetan beer) was pretty good (or so I thought at the time). Kusang appeared somewhat skeptical when I ordered the beer. I should have taken more notice of his concern.
We left the room shortly afterwards to visit the town and the monastery. It was very dark and we needed a flashlight to see the paintings on the wall. There we saw the white Buddha with seven eyes and that one was rather intriguing to me. Kagbeni appeared to be a fortified town with covered narrow winding walkways. The omnipresent wind blows many prayer flags throughout the town. It is not possible to walk further north into the Mustang region without a special permit, but we walked to the edge of the town and gazed into dry desert of Mustang. Far below us in the distance, a lone Tibetan pony and rider trotted over the broad flood plain of the Kali Gandaki.
Monday 27 October - Hiking Day 20
Hike up to Muktinath (12,467 ft), a very holy spot which has been the object of pilgrimages for 2,000 years. Holy fire in the form of a natural gas jet is the central attraction, but the whole compound is interesting. If you have significant altitude problems, we're prepared to backtrack to Jomsom. Otherwise spend the night here.
Early this morning the consequences of my chang drinking became apparent. I could not sleep and read for a while by headlamp and finally began throwing up at around 1:00 a.m. and every hour thereafter until 9:00 in the morning. I kept tasting that horrid Tibetan tea but in retrospect the problem was probably the chang which contained unfiltered and unboiled water. I passed the night running out of the room to the toilet and periodically poking Larry with my Leki poles whenever he began to snore too loud. It seemed totally unfair that he was having such a restful night when I was so ill. I slept not one wink and didn't think I would be able to leave the lodge the next morning, as I was so violently ill. Larry explained to Kusang how ill I was and Kusang came by the room at 8:30 to see if he could help. I asked him if he could arrange for a cold orange Fanta. That seemed to help, so I told Kusang that we would leave around 10:00 in the morning.
We began the slow and very painful walk to Muktinath. The trail to Muktinath is visible above the town leading up a barren hillside. I walked for 10 ft. stopped and rested over my Leki poles and walked another 10 feet before I had to stop and rest again. I was exhausted and my stomach ached.
We came to the cutoff from Eklebhatti and all I wanted to do was to turn down that path and return to stay at the Holiday Inn. The name alone just sounded like home and at this time all I wanted to do was to find a Motel 6 and hide up. I said nothing of this but asked Larry to ensure that we got a really good room in Muktinath.
Larry and Kusang were whispering away to one another and then Kusang waived his arms and stopped a couple of fellows who were galloping by on Tibetan ponies. The two men began to talk and the next thing I knew one of the riders hopped off and lifted me onto his pony. Kusang had hijacked a Tibetan pony for me! The rider took the reins and then walked along back to Muktinath. It was heavenly! I had a wonderful view and after a time I began to feel much better, but still had little strength. The owner of the horse stopped at his home and virtually every tea shop and half the remaining houses all the way to Muktinath. He appeared to be announcing my illness and his rescue to every person. People came out to view the strange sight of a foreign woman on horseback. Larry began to call him 'the governor' as he seemed to know everyone. It was quite a hoot and I was enjoyed all the attention tremendously. By the time we arrived at Muktinath I was actually able to walk into the town and Larry arranged for the best hotel in town.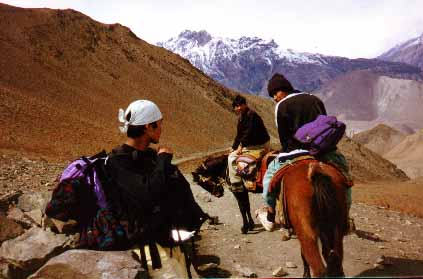 I piled into bed to sleep. Larry came back to the room to let me know that Liz, Dawa and Mohan had been in this very hotel the previous night and had left in the early afternoon for Thorung La. A moment later, he returned to tell me that Liz and her entourage had returned to Muktinath after rescuing an Israeli's porter. I got up to visit with Liz in the dining room. She said that she was very concerned about going over Thorung La. She had gone to check out the pass and learned that two porters apparently died today on the other side of the pass. There was a bad storm on the pass with lots of snow and the weather was awful. Near the base of the pass is a small teahouse where many of the hikers were telling tales of the awful trek over the pass. Mohan met a porter, from his home in Nepal, who was sitting outside the teahouse. He was absolutely incoherent. Liz went into the tea house and spoke with the Israelis who hired this porter. They indicated they were too ill to go down the rest of the way to Muktinath. She told them their porter was suffering from altitude sickness and she was taking him to Muktinath. They apparently didn't seem to care about him. So Liz and her crew help the poor fellow to town. Her experience at the teahouse and the stories of the pass really spooked Liz. She decided to turn around and return the same route back to Pokhara.
Larry, Liz and I spent a most interesting evening visiting with an intellectual man from New York, a world traveling woman from Los Angeles and a curly-haired fellow from California. The conversation was most esoteric with subjects ranging from Satanism vs. Wicka, the rights of Texans to secede and the difference between Americans and Canadians. The woman from LA told hair-raising stories of her travels through India, Ladakh and Tibet.
Tuesday 28 October - Hiking Day 21
An altitude day in Muktinath would be a good idea, but if you're feeling good you can walk uphill for a couple of hours and stay at the solitary teahouse at Charbarbu under the pass at about 14,000 feet. Leave your gear there and walk up another thousand feet or so, then return to the teahouse to help your altitude acclimatization. The food at this lodge is not very good, so bringing some chocolate and biscuits from Muktinath is a good idea.
Today was a rest and acclimatization day. The weather is gray and overcast, a constant reminder of the bad weather over the pass.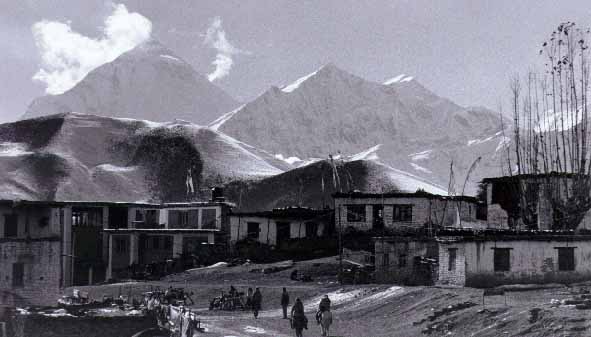 Over breakfast I visited with Liz. She was adamant that she was not going over the pass and intended to return, with Mohan and Dawa, the way she had come. I don't want her to go. Such interesting things happen when she is around. She was a bit of home that we kept meeting on the trail. I worry about her returning without us.
As today was a rest day, we decided to spend the morning visiting the famous walled Hindu and Buddhist temples of Muktinath which had been attracting pilgrims for centuries. In the afternoon we would scout out the pass.
Along the way to the temples, we passed the Bob Marley Lodge, with a huge picture of Bob Marley on the sign. This lodge is famous for the reggae music which blares from the hotel night and day. One of the most compelling things about Nepal is this juxtaposition of divergent concepts - Reggae rock and holiness, trash and pristine beauty, jungle and snow, poverty of goods and wealth of spirit.
It was so dark in the Jwala Mai Temple, famous for the fire burning in the water, that I couldn't see anything. At the Vishnu Temple there is a courtyard with 108 brass calfhead water spouts. The water is said to be holy. I walked along with my hand touching the water of each spout in hopes that the holy water would protect us over the pass. Kusang carried a large plastic coke bottle around filling it with water from each spout to take back to Kathmandu for A.D.'s wife. This was an incredible act of caring, since Kusang must now carry the water bottle over the pass and protect it over the rest of the days of this hike. John tells me that A.D.'s wife is Buddhist, but she treasured the sacred water from Muktinath and has some of it still in a little bottle on the household Buddha shrine. We visited a Hindu temple and were met by a Hindu priest who blessed Larry and me a tika - a dab of red paste on our forehead.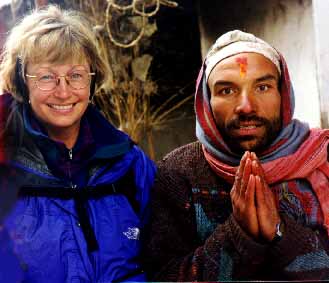 Next door we visited the Gompa Sarwa Buddhist temple, where Guru Rinpoche, a Buddhist saint, is said to have left his footprint outside this temple when he passed through Muktinath in the 8th century. Here again we see that intertwining, Buddhist and Hindu respecting and worshipping and visiting each others temple.
We returned to Muktinath for lunch and once again met up with Gottfried who joined us in our dayhike to the base of the pass. We walked to Charbarbu, the small lodge at the base of the pass, and met many hikers who had just come over the pass. I felt very strong but thought that we really should consider staying there that evening. Kusang though the lodge was far too dirty and wanted to leave from Muktinath. Larry and I walked beyond the tea house and up past the ruined yak huts and up onto the icy snow to test the route. Many hikers were still coming down the trail and appeared to be on their last legs. One told us of falling at least 20 times because of the slippery conditions. However, going up appeared far less difficult than coming down the icy slippery trail and I was feeling very fit and ready to tackle this pass. We turned back before either of us felt the least tired. That little bit of a walk was probably the best thing we could do in mental preparation for the hike and acclimatization.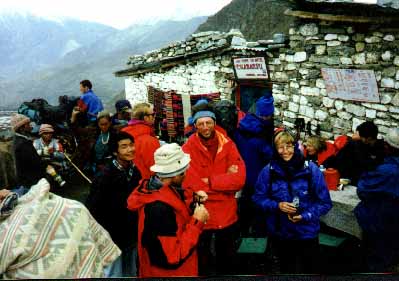 On the way back to Muktinath, Kusang tells us we will leave at 2:00 in the morning. He says it's a long way and we should go early. So we've now put together the list of supplies and we are getting packed tonight to allow an early start. Gottfried wants to join us for safety as it appears that we are the only people traveling over the pass from this direction. We bought Gopal gloves and socks and he is going to wear my running shoes and gaiters. Gopal would otherwise be wearing his little green canvas running shoes. If we have extra warm clothing we will pass that on to him, but I fear we will need most everything we own to keep warm ourselves. I was still a bit nervous about doing the trek when Liz, who was clearly more fit than me, turned back. I asked Kusang what Gopal thought. Gopal apparently responded "We've already seen that part, I don't want to go back". So we are waiting for dinner and placing our faith in our fearless leader who says we will proceed no matter what the weather.
Wednesday 29 October - Hiking Day 22
Over the Thorong La (17,769 ft), a difficult day but spectacularly beautiful. Start early (about 2:00 A.M.) before the trail becomes muddy and slippery. Over the pass you can stay at Phedi (not a very nice lodge) (14,600 ft.), or continue on another couple of hours to Letdar (13,780 ft.), still not elegant but an improvement over Phedi.
Kusang knocked on our door at 1:25 am, but I'd been awake on and off since 9:00 in the evening when we finally settled into bed. With a great deal of trepidation we got up and began drinking water and the orange Fanta to super hydrate before the hike. We rushed about with nervous energy gathering warm clothing for our packs and getting the duffel bags ready for Gopal. Kusang arrived again with two large flasks of hot coffee and asked if we wanted a hot breakfast. He'd got the women in the lodge up to prepare breakfast for us at this ridiculous hour. Larry and I basked in unexpected hot coffee for breakfast. I wasn't hungry - I just wanted to get going. But Gopal and Kusang ate breakfast. In retrospect we should have ordered something, firstly to let Kusang and the women know we appreciated their effort for us but equally because we would be requiring all the energy we could store for this trip.
We had arranged to meet Gottfried at 2:05 a.m. outside his lodge which was close to the Bob Marley, but when we weren't there on time he walked back to our lodge to see what was up.
Out of our lodge the night air was freezing. The first place I looked was the sky. Stars were shining but no moon. The heavy overcast was gone. I did a little dance of thanksgiving.
Around 2:30 a.m., we departed into the black night. As we left, I believed that if the climb became too difficult we would just return to Muktinath. Larry tells me later that from Kusang's perspective, return was not an option. Two dogs followed us through Muktinath, one with a little bell which tinkled as we made our way up past the monasteries. At first I thought someone had a bear bell but the sound was comforting in the dark. We pulled out our flashlights and headlamps as we left town. I gave my headlamp to Gopal as he was leading and carrying the greatest load. He looked warm wearing my runners, gaiters and Kusang's jacket. Kusang wore only his fleece.
We wended our way up to Charbarbu, the last bit in the dark seemed much longer than it had the previous day. We stopped for a rest in the dark at the teahouse. It was silent all around. Only we and the dog with the tinkling bell made any noise. Someone pulled out tea which was still warm and gratefully received. My water was already freezing in the bottle. We'd heard this would be a problem.
After a short rest at Charbarbu, the troupe continued climbing up the mountain, reaching the beginning of the icy patches we'd seen the day before. Once we began hiking again, it was impossible to keep track of time...we just placed one foot ahead of the other and tried to match our breathing with the labour of the climb.
At some point Gottfried suggested that someone take my pack. Kusang wore it for a time on the front of his body. I immediately noticed an improvement. Gottfried later tried to take Larry's pack, but Larry was quite insistent that he could manage. I think there was some male stuff going on.
In the dark it was impossible to see the elevation we had gained or the top of the pass. So I judged distance against a mental climb from Hermit Rapids at the bottom of the Grand Canyon to the rim. That distance was also about a mile in elevation. I had done that route many times in the past and knew it well. As I went along I would check off the distance against my mental hike through the Vishnu Schist from the Rapids to Hermit Creek, up out of the creek through the Tapeats, then the long killer hike over the Tonto Plateau (which I called the Yellow Brick Road) through the Bright Angle and Muav formation, up the steep Cathedral Staircase in the Redwall, then clambering over rockfalls in the Supai and eventually to Santa Maria Spring and a rest, more Supai and the forest in the Hermit Shale and the final rest before the steep ascent through Coconino Sandstone, Toroweap Formation, Kaibab Limestone. As I hiked along in the dark in Nepal, I saw myself climbing through these different geological formations. I would point out to Larry each formation that I thought we had passed. Since he too had hiked that trail, I thought it would help him visualize this hike. In fact, I did a pretty good job of it until the last bit. Where the Grand Canyon becomes steep at the top, Thorung La levels off to a gradual but much longer ascent to the pass. At the point where the climb of Thorung La equaled the end of the Yellow brick road, I felt we could no longer return to Muktinath. Too much work had gone into the climb by then.
Gopal fell several times and seemed to be going very slowly. We stopped for a rest and Kusang brought out bottle of tea which he had wrapped in his towel. It was still warm. By now my water bottle is completely frozen and I was unable to swallow cold water in any case. The warm tea was so wonderful - everyone had a huge smile on their face as we drank from the same bottle in contravention of the usual Nepali custom. I noticed the smiles and it seemed that suddenly it had become lighter outside. A sliver of the moon had come up from behind a mountain on the right side of the pass.
As we continued up it became colder and colder. I changed to warmer clothing but my hands were so cold and I was shaking so much that it was difficult to do up my zipper. I folded my thumbs into my mitts to warm them, which made carrying my Leki poles difficult. Finally my hands seemed to warm up and I was worried that my fingers were actually freezing. A quick check touching my fingers to my face seemed to confirm that everything was well.
Gopal was definitely weakening and taking terrible spills. Without so much as an exchange of a word, Kusang took Gopal's doko. I took back my pack. But Gopal continued to have some nasty falls because my running shoes had little tread compared with our hiking boots. Kusang was very strong and hiked on ahead carrying the 50 lbs.
The sky lightened further and suddenly there was much shouting behind me. I turned around to see the sun hitting the top of Dhaulagiri. It was fantastic. Gottfried was shouting, "I'm so happy - It's so beautiful". I felt like crying. I was overwhelmed by the beauty, the silence, the isolation and the incredible humanity of Kusang's action in lifting the doko from Gopal and trudging on.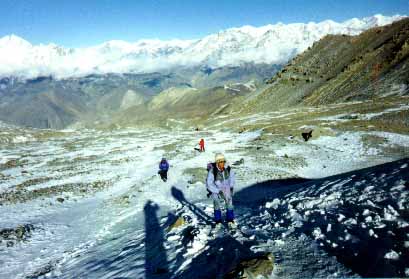 We turned again to climb, re energized. High up ahead we could see Kusang standing alone on a pinnacle of rock. Everyone rushed to join him, dropping our packs by the doko and walking along a peninsula of rock. For a time, the five of us gazed back and watched the sun now striking the whole range of mountains behind us. At that point, for the first time, I knew we would do this climb.
When we turned around Thorung Pass was visible. Kusang pointed out Thorung Peak on the right. I began to keep the Peak as my checkpoint to know how close we were to the ultimate pass. The trail now became less steep, but still we plodded onward and upward.
Incredibly, we began to see people...porters laughing and running down the mountainside from the other side of the pass. Previously, we felt we had the whole Himalaya to ourselves. Kusang said that the porters indicated that the top was a mere 45 minutes away. But the 45 minutes slipped into much longer as the top kept sliding further and further away. We meet other trekkers, two carrying mountain bikes over the pass. I commented to Gottfried that we were not the only crazy people on this mountain.
I was slowing down, exhausted, but Larry was energized and kept walking close behind me. I finally yelled at him that they should all just go ahead of me and let me walk at my own speed. Larry, ever the diplomat, didn't point out that Gottfried and Gopal were already ahead of me. He figured I was hallucinating. He just walked around me and marched out of sight. I was really struggling now...I'd expected 45 minutes but was sure that 2 hours had passed. Each step was an effort. I began to worry that I was suffering altitude problems. I was astonished by the sun sparkling on the snow. I mentally checked out all my systems asking myself if I wanted to stop and go to sleep. No - I knew I couldn't do that. I knew I was still functioning, but in slow motion. I'd rest every 10 feet, turn around to see how Kusang was doing, walk another 10 paces, turn around. Then, with no warning, I saw a large cairn of rock with Larry, Gottfried and prayer flags all waiving at me. I had made it to Thorung La!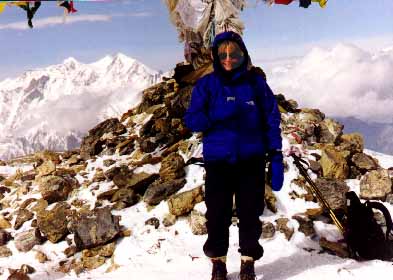 Larry gave me a cup of warm tea. I didn't even thank him. I was worried about Kusang who was labouring behind me with the doko. Kusang was clearly cold...he wore only his fleece (having given his jacket to Gopal) and a towel wrapped around his neck for warmth. Kusang reached the pass and dropped down into the snow with the doko. I yelled to Larry to get tea for Kusang. The temperature at the pass was about -25 C and there was a wicked wind.
We moved into the little shed, Gopal and Kusang went to sit with the Nepali who was selling the tea at outrageous prices. Gottfried, Larry and I went into the other part of the shed and sat on the frozen ground sipping our tea. Kusang offered us a huge bag full of twists of frozen Tibetan bread. They were delicious, but hard and cold. It was impossible to warm up. Gottfried said he wanted to move on because he was cold and had a headache. He was suffering from the altitude. We agreed to meet up again at Phedi and Gottfried walked out of sight.
Larry and I went out to take pictures and Kusang joined us frolicking in the snow. I picked up a small white rock near the cairn. I though this would be a good souvenir of the pass. I intended to pick up a matching small black rock at Kala Pattar (black hill) near Everest. Except for the cold, I felt fine.
It was a relief to begin the walk downhill. Walking was warmer than just standing around and each step took us lower in elevation and closer to a bed. But the trail down was long - long - long. I just let one foot fall in front of the other and my body followed along behind. I stopped thinking. On the way up, I had thought that the trail down would be much faster, but it seemed interminable.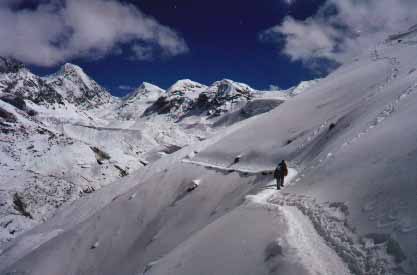 When we finally reached Phedi, Kusang was reluctant to stop there. We hadn't seen any sign of Gottfried and assumed he's stopped there. Kusang wanted to walk on to the Marsyandi Lodge further down the trail. We stopped for noodle soup which was garlicky but hot. I wasn't very hungry, but knew I should eat something.
The trail continued down hill, but every once in a while the trail led to a river or stream crossing and the accompanying uphill (or was it uphell). We finally arrived at Letdar at about 4:00 in the afternoon. There was only one room left - in what appeared to be a cattle shed. The door wouldn't lock, in fact it wouldn't even close. But we took it. I felt like we were Mary and Joseph and there was no room at the inn.
We went for dinner. Gottfried showed up at our lodge. He was concerned about us when no one showed up at Phedi, and he decided to walk down to see if anyone has seen us. He told us that many of the trekkers, who were hiking up to Phedi, had seen us. At this point we were quite famous, having hiked over the pass from the "wrong" direction. He was relieved to find we were safe. As there was no more room in Letdar, Gottfried walked on to a much nicer lodge lower down.
I had a snack of French fried potatoes but began to shake with exhaustion and cold and went to bed to warm up. I asked Kusang to fill a water bottle with hot water to use as a heater in the bed. I was stuffed up, coughing and tired and I fell asleep.
Thursday 30 October - Hiking Day 23
An easy downhill day to Manang (11,614 ft), a prosperous Thakali town on the north side of the Annapurna Massif, set above a glacial lake.
The morning came too soon. I felt too grotty to get out of bed. I was cold and wanted to have a hot shower. Larry ordered a thermos of hot milk coffee (Nepali for coffee with cream and loaded with sugar) and he served me in bed. I sat wrapped like a mummy in the sleeping bags. The door to our room was wide open, but I didn't give a damn. I sat drinking the delicious coffee. Slowly, I unwound from the sleeping bag, hunted out some clothes, packed the sleeping bags and wrapped my long blue "genuine Tibetan yak wool" scarf around my head and went for breakfast.
Breakfast was interrupted by a Canadian woman doctor who wanted us to escort her porter to Manang. He was suffering from altitude sickness and appeared to have a cough. The doctor was concerned that he may have pneumonia. Everyone was jumpy about altitude problems as there had been a serious incident only a few days ago. A porter for a commercial outfit was sent back alone from Thorung La after having altitude problems. He was so exhausted and unbalanced that when he reached Letdar, he simply crawled into a deserted half-finish lodge and fell asleep. Some trekkers found him the next morning close to death from exposure in the cold. Although they tried to rush him down to the Himalayan Rescue Association in Manang, the porter died. This was one of the porters that Liz had heard about. Everyone was being warned that a person suffering from altitude illness was not capable of making rational decisions and must be personally escorted back to safety.
The porter walked with us for a time, but as we lost elevation, he perked up. When we stopped for tea, he just rushed on ahead. The walk to Manang was punctuated with frequent stops at virtually every tea house along the way.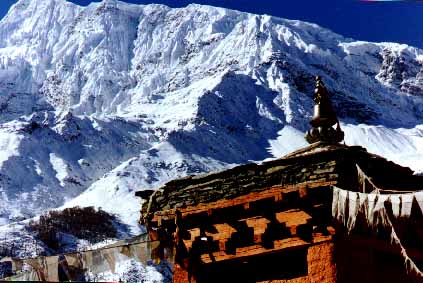 Our arrival in Manang was greeted by an elderly gentleman who wanted us to shop at his table of Tibetan goods. I explained to him that our porter would not appreciate more goods in the doko. He laughed and then made a great fuss over me. He wanted to know my relationship to Larry and then wanted to know Larry's age. He pointed out to me he was 68 but was very strong. He made a fist and cocked his arm to show me his muscles. I as laughed and laughed at his antics.
Larry and I took a lovely room at the Tillicho Hotel, with 4 beds - one for each of us and one for each of our duffel bags. We ate, had a hot shower, washed clothes and sat in the sun on the porch overlooking Annapurna II, Annapurna IV, Annapurna III , Gangapurna and the fabulous Gangapurna glacier. This was, without a doubt, the most spectacular mountain scenery of the trip. The brilliant sunlight added to the beauty.
With Kusang's approval, we decided to rest here tomorrow and visit the Gompas. We may even take a trip to Bragga to visit the famous coffee shop that everyone, including Jim Boothman, has talked about on the circuit. Kusang says that all the guides and porters are impressed with our trip over Thorung La from Muktinath. Liz would be jealous! We are sitting here quite smug in our accomplishment, listening to those around us wondering about whether they are suffering altitude sickness and worrying about their anticipated trip over the pass.
Larry, Kusang and I watch the night fall over Gangapurna. Slowly, slowly, it begins darken. Above the mountain shines Venus, a solitary brilliant star. The star begins to fall into the mountain and in an instant it disappears. We all look at one another in wonder.
Friday 31 October - Hiking Day 24
Resting day at Manang (11,614 ft). Time to check out local gompas.
While sitting at breakfast this morning, I listened to the hikers talking around us. Most were discussing their altitude symptoms. But one young fellow addressed the contingent of British hikers in a loud voice that carried through the dining room, "Did you hear that couple going at it around 5:00 o'clock this morning. The walls are so thin in this place." I choked on my Tibetan bread, grinned at Larry, looked around to see if anyone else looked guilty and decided that I should just sit there looking really old.
This is a resting day, and it's a good thing too because I'm coughing uncontrollably. But that won't keep us from checking out this really interesting town. We had intended to spend an extra day here anyway in hopes that we could go to Tillicho Lake. But now that we are here, we've discovered that the hike is difficult, uphill and it will take three days and a tent to make it to the lake and back. This is a prime location to spend some time on the way up to the pass. The next time, if we try the pass from this direction, we will budget at least 3 days in Manang and climb some in the surrounding area before going over the pass. It would be a terrific acclimatization zone.
We first go to the Himalayan Rescue Association to see if the porter, who sped ahead of us yesterday, arrived in Manang. He did. That was a relief. I kept worrying about him and thought we hadn't carried out our assignment. I imagined this Toronto doctor initiating a law suit against me on behalf of that fellow. Where you take on the roll of a "Good Samaritan", you must follow through.
There are two doctors working here as unpaid volunteers for the Association, a man from New Zealand and an American woman from Hawaii. It is comforting knowing that there is good medical help close by. We are told that they have a woman trekker who is suffering from altitude sickness and that she will be air-evacuated out later today. She's been in hyperbaric chamber known as a Gamow bag for on and off over the evening. When these bags are inflated, the pressure increases above the local atmosphere and this simulates a lower elevation. Instead of having to walk down to a lower elevation, you are popped into a cocoon and a foot pump brings you there. We are told that there will be a talk later this afternoon on altitude sickness and decide to return to hear this discussion. Since we've already gone over the pass, the best we can do is find out what we did wrong.
We are off gompa-trekking. The far one, which Larry calls the Polka Dot Gompa, beckons. We climb a steep hill and ring the bell. Kusang knocks on the door but no one answers. We decide to wait until 10:00 and walk around the building. White dots, evenly spaced apart, are painted on a wooden lintel about 4 feet off the ground around the gompa. Larry was intrigued by the dots and tries to determine their meaning. I inspect the mani stones piled in a shrine outside the yard and those carefully placed on the top of the walled courtyard in front of the gompa.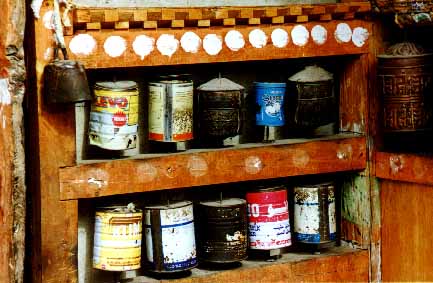 Mani stones are rocks carved with a prayer or mantra in Tibetan script. "Om Mani Padme Hum" is the common prayer on these stones and means "hail to the jewel in the lotus", the jewel being the Buddha. These mantras are also written over and over on long rolls of paper and wrapped in a tight circle, inside prayer wheels and printed on prayer flags. The flapping of the flags and the turning of the wheel sends these prayers out to the world. I suppose that the act of just sitting by rocks, sends the prayer to whoever views the stone. These shrines are commonplace in the Buddhist areas of Nepal. Along the trail, some walls of mani stones are over 100 ft long. These walls must be passed with your right shoulder to the wall. Even a small shrine must be passed this way. This made for some difficult maneuvering at times. Kusang always respects this tradition. Larry and I try to follow Kusang's direction. Round monuments are circumnavigated clockwise and prayer wheels are also turned clockwise.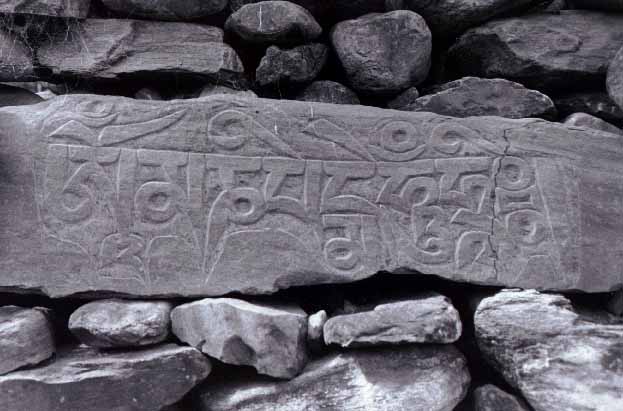 Except for the gentle sound of the prayer flags flapping in the wind, it was quiet and peaceful on this hillside overlooking Manang. We waited for something to happen. To the southwest I heard the sound of a helicopter. In an instant, the population of Manang moved like tiny ants to the field behind the Himalayan Rescue Association. The cows and ponies who had been peacefully grazing in the field, bolted away, clambering over the rock walls and up the gully near us. This was the air-evacuation helicopter. A tight knit group of tiny people brought out the stretcher to the helicopter, loaded it, and it flew away. The people disbursed and peace settled over the land once again. We decided to cross the gully and visit the gompa on the other side.
This gompa was occupied by a monk who nattered away to Kusang. I imagined him asking Kusang what he was doing traveling around with strangers, why wasn't he at home studying or getting married and raising children or caring for his parents? Kusang just nodded as the monk lectured him. To our delight, the monk pulled down one of the Tibetan books, placed it carefully on a table and he sat down on the long bench behind the table. He slowly unwrapped the book from the brightly coloured cloth wrapping, turned over the wooden cover and touched the pages . He cleared his throat. He was going to read for us! He asked Kusang for more light, but we hadn't brought a flashlight. He moved the book slightly to try to get more light from the tiny window high up in the room. He shook his head. It appeared that he could not read the script. He went to get another book. Went through an elaborate re-wrapping ceremony of the previous book and opening the new book. He cleared his throat again and began to chant the text of the book. We sat spellbound on the thin cushions of the bench. His chants filled the room in the gompa, drifting up through the window and out into the world. Another tourist and his guide wandered in, looked through the building, listened for a while and left. We sat for a very long time, watching the monk turning the pages of the book and chanting. How long was this monk going to continue? Would it be impolite to simply get up and leave? I got up to walk around the room, but he continued. I asked Kusang how long this would go on but he just shrugged. The monk appeared to have gone into a trance. Larry just sat, listening to the chanting and watching the monk. Perhaps when he reached the end of a story, the monk stopped. He went through the ceremony of closing the pages, putting the cover back on, re-wrapping the book in the cloth and putting it back into the shelf. Kusang asked if we could take a picture of the gompa, but the monk understood him to mean could we take his picture. He posed in the courtyard of the gompa. We were able to take a wonderful picture of this very interesting man.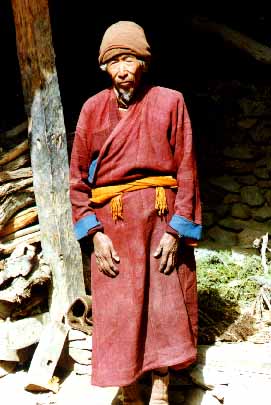 We returned to the outskirts of Manang. Larry and Kusang decided to visit yet another gompa, but I returned to our lodge, crossing the field where the helicopter had landed.
Upon their return, Larry and I attended the outdoor lecture being given at the Himalayan Rescue Association building, by the woman doctor from Hawaii. About 30 tourists attended the talk. One of the interesting things we found out was that as you climb in elevation, you need to drink more liquids in order to expel more carbon dioxide from your blood. You do this by urinating. Larry had noticed the annoying number of washroom visits he had to make in the middle of the night. He had been asking Kusang to get us a room near the washroom whenever we arrived at a lodge. I now understood why he made that request. The doctor pointed out that if this was happening to you, that was a good sign. It meant that your body was acclimatizing to the altitude. If this wasn't happening, then you should drink more liquids. She discussed some of the other nastier effects of altitude, the headaches, difficulty sleeping, liquid accumulating in lungs or swelling of the brain. She pointed out that it was OK to get altitude sickness; it was not OK to die from it. Everyone has some altitude problems and you shouldn't get too concerned about having some difficulty. You must acclimatize slowly by limiting the altitude gain each day and allow your body to adjust to the altitude. She discussed the medications available to deal with altitude illness and she recommended that you take 1/2 of a diamox tablet as a preventative measure when hiking over the pass. I had that medicine, but thought it should only be taken if you had a problem. In fact, although I brought over $200 worth of medicines to Nepal for various ailments, I only ever took 1/2 of diamox pill during the whole time. I would not have even done that except for unusual circumstances on my Everest trek. The doctor recommended that hikers trekking on to the pass, stop taking other medications as they may complicate the acclimatization. At the end of the lecture, a question period followed, and various trekkers asked for advice on the specifics of their medical problems and medications. One trekker asked, "Should I stop taking birth control pills?". The doctor replied, "Only if you want to give your boyfriend a surprise in nine months". I was able to purchase some Nepali cold medication with codeine in it for my cough, from the Himalayan Rescue Association, only because we were not going over the pass. Otherwise, she would not have been willing to recommend that medication.
This lecture should be an absolute requirement for any hiker who intends to trek at elevation. I had read as much as I could about this problems before I left Canada. I was inundated with books and medical papers and items off the net. I really thought I knew enough. However, I could not put that knowledge into perspective. Information about how the problems of altitude sickness occurs, what to worry about, what is normal, how to minimize risk and how to effectively deal with serious difficulties, from people who live and work in this area, all reduces the anxiety that a hiker naturally feels right from the start of a trek. There is much misinformation about this issue on the trail. Many people become hysterically concerned about their real or imagined symptoms. That stress spreads like wildfire. I believe that this lecture is also given in Kathmandu and I strongly recommend that every trekker go to this lecture before even getting on the trail. Then go again, to get local information and hear interesting stories, when you get to Manang or Pheriche.
Saturday 1 November - Hiking Day 25
Follow the Marsyandi Khola river east along the mountains to Pisang (10,827 ft), divided into an upper and lower town. The monastery in the upper village is interesting, if you can find or wake the custodian.
Yesterday, the Hawaiian doctor apologized for arriving out of breath for the lecture at the Himalayan Rescue Association. She had run down to Braga for a cup of coffee. Braga is a small village about 20 minutes down the trail from Manang.
The coffee shop in Braga is reputed to be the best on the trail. The reminiscent, yearning eyes of every tourist who told us of the shop, almost prepared us for the real fresh ground coffee and bakery goods. Visions of this heaven inspired us this morning. The coffee shop is located on the bottom floor of a new lodge, part of which is still under construction. We arrived in Braga very early in the morning, but the shop was open. The lodge is located just to the right of the trail, surrounded by a low rock wall. Down a few steps off the trail, the coffee shop is surrounded by picnic tables, each one covered with lovely gray striped Nepali yak rug. The place was most inviting and while Larry and Kusang went to visit the local gompa, I chose to rest and relax. I ordered a cup of milk coffee and a danish and sat in the sun. A lone workman sawed and hammered, without the use of any power tools, constructing the lodge. The young man who ran the shop sat with me and told me that the owner, was a baker who learned his trade in Kathmandu, but returned to Braga over the trekking season. He explained that this was a seasonal town which closed up during the winter months. From December to March most of the inhabitants lived at lower elevations or went to Kathmandu. During the trekking season, they would return to Braga, to open their lodges and restaurants. I asked him about the lovely, heavy rugs which were used as table cloths. He told me that they were made in Nepal not far away, but off the beaten path, towards Manaslu. The owner had purchased each for about 1,200 rupees. The rugs reminded me of plain Navajo rugs and I asked about purchasing one. He said I would have to speak to the owner who would be by about 10:00 in the morning. Since it was about 8:30 I thought the chances were slim that I would still be around when he arrived. Some young children arrived singing a song. The previous evening, Halloween eve, some children had come around the lodge singing and begging for money. These youngsters, clearly not even of school age, were still in the singing mode. We handed them a few rupees. I wanted to take a photo of the youngest, about 3 years old, who wore traditional Tibetan clothes and was as cute as a button. But lethargy won, and I sat in the sun and ordered a large pot of coffee. The young man spoke of his dreams of success, while my hand rubbed the rug and I dreamed of owning one. After a time the young man disappeared and later returned and indicated that the owner would sell me a rug. Larry and Kusang returned and we drank more coffee. As we went to leave I spoke with the young man again and we arrived at a price of 1,500 rupees. I was delighted. Kusang told me that I got a very good price, and he insisted on wrapping up the rug in plastic and carrying it the rest of the trip attached to the bottom of his pack. I later talked often about going to Braga and liking the coffee so much that I bought a rug.
Just past Braga, at a small village known as Mungji, the trail splits. We chose to take the low trail as we were still fairly tired from the climb over Thorung La. We were content to dawdle along the river on the level easy trail. The high trail climbs the North side of the Marsyandi River and meets up again with the lower trail at Pisang. We had passed many hikers, including my friends Jim and Sharon Boothman, who spoke highly of the other trail and it's tremendous mountain vistas. Maybe next time. Travelers from the opposite direction would likely appreciate their first real glimpse of high mountains on the high trail, but we'd had plenty of those already.
The trail initially wended through badlands type of terrain and then passed through pine forests. The pine is different from our North American pine. We pulled down a branch and examined the five fine needles which form in bunches. The stump of a recently felled tree drew our attention and Larry and I debated what type of tree previously stood in this place. Chips of wood remained and I picked up a piece and held it to my nose. Ah! Cedar! The smell was so lovely, I pocketed a few chips in hope that the smell would bring me back to this picturesque valley surrounded by peaks. The walk was very peaceful. We met few hikers. Kusang and Gopal hiked for some time with a group of porters. Larry and I dawdled along the trail dreaming of building a small cabin in this forest. The view were reminiscent of places in the Okanogan, Colorado and even Banff. We both felt quite at home. There are few houses between the towns and the trail was like a wide dirt road. It would have been delightful to x-country ski this part of the route. This area is quite perfect, especially between Braga and Hongde. At Hongde there is a small airport where planes arrive once a week from Pokhara. We talked about flying to Hongde and trekking up to Manang for a week and then over Thorung La to the Mustang region. Tonight we are staying in Pisang and have chosen to stay in the Maya Lodge. Kusang says that some young girls may bring us rugs for sale this evening.
Sunday 2 November - Hiking Day 26
Continue along the river to Chame (8,760 ft.), district headquarters and a pleasant town. If you arrive on a market day you'll find the town full of hustle and bustle.
The trail weaved through V-shaped valleys, slightly rolling at times, but basically downhill all the way. The vegetation began to change with deciduous trees now making their presence known.
A festival was underway in Chame. We appear to be back in Hindu country. The men folk and children of the village sported garlands of marigolds and gathered along the trail through the village. Some appeared quite drunk. The children were engrossed in card games.
Kusang and I went to look for the post office so that I could mail the postcards that I had picked up in Manang. We saw a sign which pointed down a tiny alley and we walked down to find the office. An officious fellow sat on a bench outside the post office reading a newspaper. After much fuss, we were directed to "sit please" on the bench. I was grilled about where I had been, where I was from and whether I liked Nepal. I was directed to "specify the reasons for my liking Nepal in detail". I was then given a lecture on how the mail system worked in that district, complete with a diagram. It appeared that mail was carried up the trail by porters to convenient sorting places and then carried back down the trail by other porters. If I posted my cards in Chame, that mail would be carried up the trail to Pisang, sorted and then carried back down the trail to Besisahar and then go on by more modern transportation to Kathmandu. The gentleman indicated that he would send for his subordinate. We waited for 10 minutes. Word arrived that the subordinate was not available to open the post office, as there was a festival underway. He must have been one of the men we'd met earlier on the street. Many apologies were given and suggestions made about how the mail could be posted the next day at 10:00 a.m. To me it appeared to be silly to post the cards in Chame when they had to be carried back up the trail before they began to wend their way to Kathmandu and North America.
We took lodgings at the Tilicho Lodge which did not have a shower. I saw a shower for rent in the lodge across the trail. I asked Kusang if I could have a shower elsewhere. He said yes. He and Gopal then lead me on a long walk back through the village. We met the postman again. "Namaste". Kusang led me back over the bridge and then along the river. I could see some people ahead by the edge of the river. Kusang had brought me to the hot springs in Chame. The pool had been recently destroyed by a rockfall, and stream of hot water was filling a small depression in the rocks. The depression would accommodate one person, and there was a line up of tourists waiting to bathe. Each of them washed themselves, while their friends washed their clothing, in the pool and the soapy water polluted the tiny pool. I scooped hot water in a bucket from a tiny side stream and Kusang helped me pour it over my head to wash my hair. I tried to ensure that my soapy water stayed out of the hot pool area.
We returned back through the partying village and again met the postman, and we again had a long talk, this time about my marital status. I returned to find Larry shivering in bed. It had begun to cool off and was now late in the afternoon. I encouraged Larry to take a walk with me to the hot springs. It took a genuine effort to get him into the hot spring. He was quite disgusted by the soapy pollution, but I pointed out that if he waited for a few minutes after the last bather, the pool flushed out and appeared quite clean. He finally agreed to strip down and was rewarded by the warm gentle water that trickled through the pool. It was much quieter now in the late afternoon. Few tourists were around. I washed cloths while Larry lay back in the pool with his eyes closed.
As we returned to the lodge, dusk was settling in. We could see a large gathering of women and children dancing and singing as they walked up the trail towards the town. They stopped outside the lodges and sang until the lodge owner paid them a few rupees to leave. Kusang called this the begging song. I sat on the steps of the lodge to watch the women. One of the bolder young women came up to me beckoning me to join them. She then began to pull me by my arm encouraging me to sing with her. The children loved it, clapped their hands and danced around me. I joined them in the singing and dancing. Then they begged money from me.
Monday 3 November - Hiking Day 27
The river turns south, and you follow along to Bagarchap (7,087 ft). You'll see evidence of the landslide which hit the town last year. You are losing altitude rapidly now, and the plant and animal life is much more varied. Hike on to Dharapani (6,234 ft).
We saw the cutest little goats today. One had lovely flopping white ears, a white spot on his forehead, and one little white sock - the rest was jet black. He looked like a clown. The tiny goats, probably not yet a week old, leaped about and performed amazing feats of climbing ability, clinging to the almost vertical side of a boulder that formed part of the wall in a farm yard.
We passed through the town of Bagarchap. On 10 November 1995, a rainstorm which had lasted for 2 days, sparked a rock slide at 6:30 p.m. which killed 24 people and leveled 17 homes in the town. Not one villager was killed, but 4 porters or guides and 20 tourists perished, including a number of Canadians. Memorial were located throughout the town. We had lunch here and tried to work out how the rockslide happened.
Both Larry and I were feeling quite weak today. We'd been puzzling over the cause. Larry muttered that the Gods were annoyed at unusual activities happening over 8,000 ft.
We met up with a large contingent of women at the check stop in Dharapani. They wore matching t-shirts with a flag emblazon on the front. I asked where they were from - Norway they exclaimed. I told them my name was Norwegian - but they said I pronounced it incorrectly.
Shortly after that meeting, I was stricken with a migraine and couldn't see. We stopped at a hotel which was close by and I was lead to a room and was able to sleep immediately. The headache never came and the blindness disappeared after a few hours. I awoke to find we were in a lovely room overlooking a waterfall. Larry had described the view when he tucked me into my sleeping bag at 1:30 in the afternoon, and now I could appreciate it.
We met up with a contingent of Austrian women hikers with one lone male chaperone who virtually took over the dining hall. We were surprised to learn that they had met Gottfried earlier and that he was well ahead of us. It turned out that they were also from Salzberg and one of them knew him from that area.
Tuesday 4 November - Hiking Day 28
A couple of smaller and one especially nice waterfall grace the day's walk to Tal (5,577 ft), a town built on the now dry bed of an old lake. This is the largest flat spot you've seen for quite some time! Continue south to Syange (3,609 ft), where the agriculture returns to rice rather than the barley and wheat crops of higher altitudes.
This was a nice hike through Tal and down a valley filled with waterfalls.
We stopped for lunch and met a Frenchman who had been hired by the Annapurna Conservation Association to survey the restaurant owners regarding problems with tourists. That was an interesting perspective.
In Syange, our hotel perched over the Marsyandi River, close to the bridge-crossing. The dining room was hot in the afternoon sun as it is a virtual green house, surrounded by large windows on three sides. If I dropped something out the dining room window, it would probably fall into the river. The bathroom however was very grotty with a rotting wooden floor. It was so dark inside that I propped open the door so that I could find my soap. But clean hair and body felt wonderful.
I finally ran out of Canadian cigarettes. Kusang suggested that I try a Nepali cigarette known as "Shikhar". I was reluctant to purchase a whole package, but Kusang says you can buy one cigarette at a time. I tried one and found they were excellent - so I bought a package.
The food in this lodge was excellent - the best chips and momos on the circuit. Once again I entertained the owner's children with pictures and postcards. We spoke with a woman who claimed to be the cook. She told us that she could neither read nor write and she was very embarrassed. But she intended on ensuring that her children could. She insisted that they go to school. She joined the children in looking at the pictures. She told us she was Buddhist when she saw Larry's pictures of the Dali Lama. She appreciated receiving one. We stayed in the smallest room of the trip. No need to shove the beds together tonight. Our sleeping bags are too hot and I had a very poor sleep and lay awake reading most of the night.
Wednesday 5 November - Hiking Day 29
A longish day to the roadhead at Besisahar (2,690 ft.) completes the circuit.
This was a brutal day. It was very hot and Gopal was walking very slowly. I couldn't tell if he was not feeling well or if he didn't want the hike to end. We started very early, but the trail just seemed to go on and on. We picked up some oranges from a trailside vendor and sat on a bench surrounding a tree by the river at Ngadi, eating oranges and resting.
A porter passed us carrying a kayak and met up with an Irishman who was in a party of kayakers, but who had an accident and damaged his kayak. We walked with him for a while watching the kayakers navigate the river. The excitement of the kayakers broke what was otherwise a long and tedious day.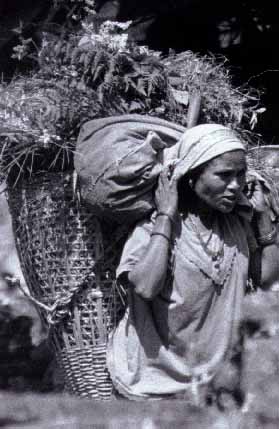 We began passing through fields of rice once again. We climbed to Bahandanda and sat in a square full of tourists and begging children and noise. It was like coming out of a dream. This was just a little taste of what awaited us in Besisahar.
We walked through more rice fields and then were directed by some small children to a narrow path that led abruptly down an alley to the middle of town of Besisahar. Trucks roared up and down the dusty street and radios blared. I stood by a water tap and watched the crowds of people in the town.
Kusang found a lovely lodge in a quiet area of town. We sat at the open air table in the front of the lodge and drank beer with Kusang and Gopal.
Thursday 6 November - Hiking Day 30
Lurch down to the main road in an old truck to Dumre (1,260 ft.) and then hop a taxi to Kathmandu.
Our lodge owner spoke with us at length about the bus strike and politics. It appears that there had been an accident somewhere between Dumre and Pokhara. A bus, traveling through a town, collided with a motorcycle and the riders of the motorcycle were killed. They were from that town. The local people were so enraged by the death of these motorcycle riders that they ordered people out of the bus and lit it on fire. Local police picked up the arsonists but later released them. The suggestion was made that the motorcyclists were in the wrong and caused the accident themselves. The bus owners were incensed by the action of the police in releasing the men who destroyed their bus. Bus owners rose up and agreed to a strike in protest against the actions of the police. The strike was apparently nation wide and had gone on for a day or so before we arrived in Besisahar.
Kusang went out to see if some other means of transportation was available. Rumors of various methods of transportation, raged through the lodge. First there was a suggestion that a jeep might be available. Then talk of a truck which would be passing through at 10:00. Then finally Kusang advised that there was a truck available just down the road. We packed up our belongings and began to walk to the truck. A large number of people, perhaps as many as 40 waited to board. The cost was 200 rupees per person. The driver instructed that the truck first be loaded with the bundles and baggage from kayakers who had hired the truck to take them a ways down the road to Dumre. Then the rest of the baggage was loaded on.
We hadn't seen Gopal since last evening and we were wondering where he was. As we arrived at the truck, Gopal made his appearance. And what an appearance. He was dressed in a leather jacket, blue jeans, sandals and an incredible fedora hat. I couldn't imagine where these cloths came from. Throughout the trip Gopal wore a pair of loud multicoloured slacks and a pink t-shirt which gradually developed bigger and bigger holes. Somehow he managed to carry our 60 lbs. day after day but kept his clothing immaculately clean. His gear consisted of one very small bag in the doko. Now he appeared looking like a movie star.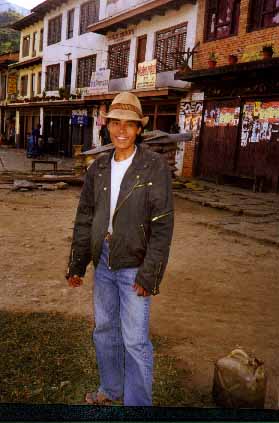 As big a surprise as Gopal was, he paled beside the ornate vehicle we were to ride in. The truck had two bench seats in the front and held 9 people jammed together with the driver. The truck box was green and artisticly painted with designs and lettering which I could not read. The outside of the cab was red and above the cab, the front of the truck box rose some 3 or 4 feet. This wooden frame became a canvass for a Nepali artist who painted a beautiful Hindu goddess in the middle of the box and surrounded it with a intricately carved and brilliantly painted wooden frame.
As beautiful as the outside of the truck was, the inside was even more riotous. A fringe of gold streamers hung 4 inches down covering the top third of the front window and above the fringe a garland of flowers wound along the top of the window. The roof consisted of colourful wood inlay and brass googaws. On the back of the cab, pictures of beautiful gods and goddesses hung in elaborate wooden frames and were separated by small wall hangings of yellow, red, green, blue cloth. 10 people crowded into the cab. The rest including Kusang and Gopal climbed into the back of the truck box. Larry and I were the only foreigners in the cab and we squeezed in between Nepali river runner guides, a very pregnant woman and her husband and small child, and various other Nepali people. One young woman, who obviously took the fancy of the driver, sat behind the driver near a window because she felt ill. Larry didn't look too good either.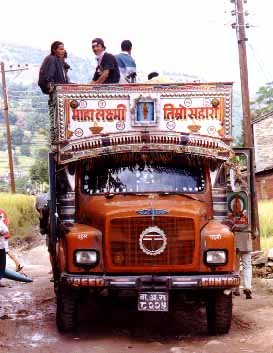 The bus took us on a hair-raising trip along a very rough trail which followed the banks of the Marsyandi river. The truck would break down the banks of side streams, race through the streams and grind up the other side of the banks. This was clearly no ordinary truck. This was no ordinary driver. He would throw himself backwards as he applied the brakes as we careened down into the streams and then he would lunge forward, shifting gears, as we inched up the other side of the valley. All the while he was chain smoking, reaching for his money box, singing to the ubiquitous music and chatting with the travel guides or the young woman.
Halfway through the trip, the driver spoke to the kayaking guide and the guide turned to me and advised me in English that the cost for the truck ride was now 300 rupees. I smiled knowingly at the guide and told him that all those matters were in the hands of my guide. Whenever he wished to discuss the matter further, I just smiled at him. I figured that was the best way to handle the matter. The guide must have figured he wasn't going to get very far with me, and we then had a pleasant nice talk about river running in Nepal
We stopped by the side of the road to unload the kayakers gear. This freed up some space in the front row, and I moved forward. This was not a good idea. While I was less constrained, I now got a better view of the "road" on which we were traveling.
Finally, we bumped into Dumre. Our gear was dumped out on the side of the road in the middle of an aggressive, dusty town. A cacophony of sounds bashed our ears and the dust and grit and smell of town garbage rose all around. Kusang went to find transportation. We slumped on our gear and drank orange Fanta. We were quite stunned to be back in "civilization". If this was civilization, I wanted none of it. I yearned to be back in the cool, quiet, gentle land where we had lived for the past month.
Kusang lead us to a hotel. We sat at a table behind the wretched hotel on a dusty dirty patio. The outhouse sat in the midst of the tables. A loud speaker in the town droned endlessly, apparently blasting locals with a radio version of a popular soap opera.
We learned that as a result of the bus strike there was no transportation leaving the town. We sought a room in the lodge and got the last room. We sat forlornly with many stranded tourists. Rumours of possible transportation spread from person to person.
A kindly waiter pointed out that he had ripe papayas in a tree by our table. He cut down one, peeled it, washed it under the local tap water and presented it to me. I was too tired to even be concerned about the water which clung to the fruit.
No one knew when the strike would end. Shortly before 4:00 in the afternoon, word came that there was a driver who would take 4 people to Kathmandu. The price was 4000 rupees. But you had to decide very quickly. Many people wanted to leave. No other tourist at our lodge was prepared to pay that price. I suggested to Larry that if we had the money, we should do this. With no end in sight to the strike, I didn't want to spend any of my precious time in Nepal stuck in this dusty dirty town. Kusang and Larry put together the money. We said our good-byes to Gopal whom I felt was stranded in Dumre. As we loaded into the taxi, the buses began to roar into town. The strike was over. Larry was incensed. I was quite mellow about the whole scam. I kind of admired the driver and his quick wit. In any case, the buses weren't leaving until tomorrow and it would have meant another lost day because the bus ride to Kathmandu was reputed to be very long and tiring and uncomfortable. So we had another hair-raising trip, this time at night, for the 100 miles or so to Kathmandu.
Along the trip, the driver asked for one of my cigarettes. I offered to sell one to him for 1000 rupees. He didn't crack a smile.
The driver dropped us at the luxurious Harati Hotel in Kathmandu at about 10:00 p.m. We checked in and found we were on the third floor. We walked to the wide marble staircase leading up to the rooms. Larry and I looked at one another and both cried "Chomrong".
---
All black and white photographs were taken by Liz Kelleher
Color photographs were taken by Larry Calloway and Pat Kvill (can't remember who took what)