Everest Trek
Wednesday 12 November - Hiking Day 1
Pat takes the morning flight to Lukla (9,350 ft), a Sherpa village with a rustic airstrip originally built by Sir Edmund Hillary.
This day began inauspiciously. Kusang didn't have my hiking permit. We discovered this in the car on the way to the airport at 6:30 a.m. The flight was to leave at 7:30 and we had to get to the flight 1 hour before it left. He scrambled to locate the permit by calling home. We raced to the airport, through a mist-shrouded ancient city from another age, while Kusang used a cell phone to find out what happened to my trekking permit. John was away fishing with a travel agent in south eastern Nepal. A.D. was already in the Everest region with another trekking group. The office manager thought that the permit was with my returned passport, but I had checked through all the things the previous day and saw no trekking permit. I thought Kusang had it. At the airport we agreed to leave my passport with a family friend and Kusang left a message at the hotel for Larry to go through my baggage to track down extra photographs for a new permit. But Liz had taken Larry on her magical, mystical, early morning tour of Kathmandu. They were off searching for the Kumari Devi near Durbar Square. At the airport the family friend asked Kusang to bring two heavy bags of rice onto the plane and deliver them to his lodge in Lukla. Kusang was royally stopped from bringing on the extra baggage. So we left for Lukla, with no permit and no rice.
The fact that I had no permit did not bother me a bit. Nepal was a little like that. Things don't always go as planned. We were just going to carry on, knowing that some other unknown person would straighten out the problem. After 5 days in Kathmandu, I was thankful just to be returning to the peace of the mountains.
The flight was quite exhilarating. As we bumped through the mountains in the tiny Canadian Twin Otter, I could see a small bandaid on the side of a hill. I knew immediately that this was the airstrip at Lukla. I'd read so much about the landing site that I was absolutely fearless. I watched it grow slightly larger, but not by much, as we swooped down to land. The airport in Lukla is spectacular - a very short gravel landing strip sloped steeply uphill (as you land) so that the flights can stop in time.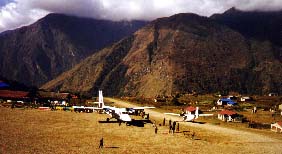 As we gathered our gear beside the plane, we were met by Mohan, Liz's porter from the Annapurna trek. It was wonderful arriving at a strange destination and being met by an unexpected friendly face.
Kusang and Mohan carried my duffel to the Everest Summit Lodge and I discovered that the family friend whom I had met at the Kathmandu airport, Dawa Tsering Sherpa, owned this lodge. I was introduced to his beautiful wife and his two year old son named Tsering. Dawa Tsering Sherpa was a climbing Sherpa and had climbed Everest several times. There was a picture of him being decorated by the Prime Minister or the King in their dining hall. I felt privileged to be staying there.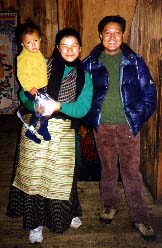 Kusang asked if I would like to visit A.D.'s sister who lived in town. We walked back past the airstrip to a huge house clinging to the hillside. We were given tea and met Dawa, Liz's guide from the Annapurna trek. Dawa seemed quite ill. He had developed a very bad cold while he was trekking to Mera Peak.
On the way back to the lodge I decided to regroup by watching the goings on at the airstrip. Clearly this was the hub of the town. Planes landed and off loaded tourists of every nationality, then loaded another group and took off. Townsfolk bustled about grabbing or loading gear and crossing the footpath over the runway to the town of Lukla. Beer-drinking tourists watched the airport activities at outdoor tables at lodges near the airstrip. When an aircraft was going to land or take off, the air traffic controller blew a whistle and people cleared off the runway.
I wandered through the town and walked down the trail to the first town. It became quite cool in the late afternoon as I walked back to my lodgings. I ate a quiet dinner of dhal bhat and retired for a good night's sleep.
Thursday 13 November - Hiking Day 2
Then you're off to Benkar (8,700 ft.), on the Dudh Kosi (Milk River, so named for its white water).
I left early the next morning from Lukla. It seemed to me to take a great deal of time for Kusang and Mohan to get organized. They seemed uncertain about a plan for the day. My permit was to arrive by a flight that morning and Kusang was going to wait to pick it up and meet us later on the trail. When Mohan seemed unsure about leaving, I just packed up and left. It didn't seem likely that I would get lost along the trail. After a while, I decided to strip down and Mohan caught up with me. We walked along chatting about Liz and her incredible strength. Near the town of Ghat, we passed a field of large prayer flags fluttering in the breeze. The trail then circles around a huge mani stone. We were really here - in Sherpa country! And the trail was all downhill. Which surprised me because we were walking up the valley.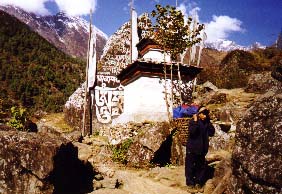 Just past Ghat we passed a large white home with blue trim on the left. Mohan announced that this was Kusang's home and we were to stop here for lunch. Kusang caught up with us just before we went in for lunch. I was introduced to Kusang's parents, one of his sisters and his little sister, Dawafuti. The little girl was a sweetheart in her little rubber boots and I liked her immediately. I pulled out my postcards. Dawafuti and Kusang's father looked through my postcards and pictures. She seemed delighted with all the postcards so I gave them to her. I gave Kusang's father a picture of the Dali Lama. I'm not certain of his reaction. He gravely held the picture over Dawafuti's head and then went back into the kitchen with the picture. Kusang's mother served us a huge meal of dhal bhat and a cabbage relish that tasted much like Korean kimchee.
After lunch we began hiking but I felt like I should be rolling down the hill as I was stuffed. I soon recovered and was hiking along quite strongly with Kusang. Mohan was far behind. Kusang suggested that we stop and take tea at the Waterfall View Lodge in Benkar and wait for Mohan to catch up. Beside the lodge is a lovely waterfall. We decided to stay there for the night.
Three small children served us dinner that evening. The common room had a wood burning stove which was stoked up quite nicely. I read the book "Escape from Kathmandu" by Kim Stanley Robinson which was hilarious. It is a perfect mindless book to take on the hike for sheer fun. I picked up my copy at Pilgrim's Book Store in Thamal. At times I laughed out loud and tried to explain the humour to Kusang and Mohan. I especially liked the part where the hero had to dream up an excuse to explain why he was coming down from Everest without a permit. He told the leader of the Indian climbing expedition which was ascending Sagarmatha (the Nepali name for Mount Everest) that at Kagbeni or Muktinath, his guide told him to keep turning right at all the trail intersections and that they got lost. He pretended to be shocked to find he was on Everest. I'm not sure that Kusang and Mohan fully understood the absurd humour, but I gave the book to Kusang to practice his English, and he carried it in a mesh pocket on the back of his pack, visible to the world.
Friday 14 November - Hiking Day 3
Continue along the river in the morning, entering the Sagarmatha National Park area. Then in the afternoon a steep, spectacular climb to Namche Bazaar (11,319 ft.), the fabled Sherpa town set in a horseshoe valley. Don't miss the water-driven prayer wheels set in little houses along the stream.
The trek to Namche comes in two part. The first part is an easy walk along a river called the Dudh Kosi (meaning "Milk River"). The entrance into the Sagarmatha National Part was the only "police stop" we made on the trip. As usual, Kusang took my passport entered the building making all the arrangements. He seemed to feel that dealing with authorities was part of his role. After some boulder hopping, we climbed up to cross the famous bridge over the Dudh Kosi. On the bridge was a minor zopkio traffic jam. Zopkio are a sterile cross between a yak and a lowland cow. Yaks are shaggy-coated pack animals which cannot survive below 3000 meter (9,843 ft.). The male animal is called a yak and the female a nak. Which makes "yak cheese", which is commonly found at lodges along the trail, a misnomer. Kusang says that zopkio are not as dangerous as yaks. We had been warned to clear off the trail when we come to yak trains.
Once over the bridge, trekkers warned us that the rest of the hike was all uphill. And it was. The elevation gain from the river to the town is 600 meters or 2000 ft. But I just strolled up at porter speed plus 1/2 and before I even realized it, Kusang pointed out the first buildings of Namche. Somehow I had thought that the town would be on the other side of the ridge which was at least another 300 meters above us.
Namche town is built along the slopes of a natural amphitheatre. The bowl faces the beautiful mountains, Nupla and Konge Ri, to the south and west. The town is referred to as the Zermatt of the Khumbu.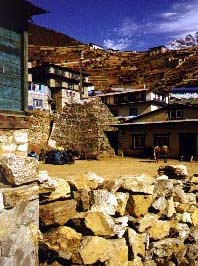 We tried to get a room in the usual hotel that Friends In High Places uses, but it was full. Kusang went searching for a hotel while Mohan and I strolled along looking at the "genuine Tibetan" goods sold on tables along the street. There was a large poster for an Indian film which was being shown at the local "theatre". I was interested in going, having watched some Indian films on TV in Kathmandu. Indian films are a potpourri of humour, killing, love story and music. But the boys didn't seem excited at the prospects. I arrange to rent a down jacket at an equipment store in Namche. The rental was 50 rupees per day with a deposit of 8,000 rupees. If I had my passport I could have left that behind without a cash deposit, but I'd left that behind with Friends in High Places in Kathmandu.
The hotel that Kusang found was a nice little one with a stove in the dining room. The stove was critical because it gets darn cold in the evening. Namche was inundated with runners for the Everest Marathon. Some 200 runners each pay $3,000 to run down the mountains from Kala Pattar to Namche. There were Nepali runners in the race along with runners from many nations including Canada. They all strolled about the town looking very fit in their runners and marathon t-shirts. Kusang says that the best of them will finish in 4 hours. Amazing.
At night an unusual group of Nepali young people, ran around town from lodge to lodge with a ghettoblaster dancing and begging for rupees. The singing and partying went on until well after 2:00 in the morning. I didn't sleep well.
Saturday 15 November - Hiking Day 4
You will be well acclimatized for this altitude, but it's still nice to take a day in Namche. Explore the town and climb a bit in the hills above it for nice mountain views north towards Everest. There are several interesting villages in the vicinity, and may wish to visit one of them. Saturday is Market day.
Today is a rest and acclimatization day and we will be staying at the same lodge this evening. In the morning we decided to check out the famous Namche Bazaar or Saturday Market. The place was packed with locals purchasing food for their lodges and tourists generally getting in the way of locals. Many of the traders were tough sheepskin-clad Tibetans. The traders had Chinese goods spread out on blankets and appeared to be trading for money or yak and buffalo skins. They looked and acted distinctly different from the gentle Sherpa people. Mohan and I wandered around the market and became bored after an hour. We had agreed to meet up at noon for a dayhike, but by 9:00 in the morning Mohan and I were ready to go. We looked for Kusang but couldn't find him. So Mohan and I decided to go exploring.
There are a number of day hikes from Namche but we decide to go for a beer at the famous Everest View Hotel. This hotel was built by Japanese for wealthy people who wanted a fast trip to see Everest. Tourists fly from Kathmandu (4,593 ft) to Syangboche (12,795 ft.) and then are carried or escorted to the hotel where they are provided with oxygen. There are two pressurized rooms in the hotel for the patrons. We wanted to check out this first class hotel.
We weren't quite sure of the route, but knew that the first step was to climb up through the town to the top of the ridge. Over the ridge we followed a trail which lead up to Syangboche. We crossed the grass airstrip and walked along a path on the north side of the runway. The path lead through a manicured park area. We must be close. A little further along the trail we found the main doors to an upscale single-story stone hotel which reminded me of the Jasper Park Lodge. Far in the distance, we could barely see the black peak of Everest. We walked to the outdoor patio and sat down and ordered a delicious bowl of tomato soup. Beer was ordered and we sat like fat foreign tourists smoking my Canadian cigarettes.
Mohan and I wandered back to the little hotel in Namche and then set about diabolically smoking my last package of Canadian cigarettes and drinking beer. By late afternoon we had accumulated 13 butts in the ashtray and had finished a considerable number of the large bottles of beer and several orders of "finger chips".
Tomorrow we are off for Tengboche along with the 200 marathoners. Kusang says that if we can't find a room in Tengboche, we may be able to borrow a tent from A.D. or sleep with his group. The last day of the Mani Rimdu festival is tomorrow and we hope to get there before lunch so that we can spend the afternoon at the monastery. I've missed every monastery on this trek so far.
Sunday 16 November - Hiking Day 5
Contour high above the Dudh Kosi on an open, spectacular trail. You descend sharply for lunch at Phunki where you will cross the river. Then a steep uphill walk to the monastery at Thayangboche(12,664 ft.) , set in a saddle and looking north to where Everest pokes its head out above Lhotse and Nuptse. You can visit the monastery in Pangboche tomorrow morning, and may be able to see the "Yeti scalp".
Because Nepal does not appear to have been heavily glaciated, valleys are deeply v-shaped and winding. One of the things you learn about trekking in Nepal, is that you never really know what is ahead. Except the day you walk to Tengboche. From the ridge above Namche, you can see Tengboche set high on a ridge across the Dudh Kosi. To get to that ridge you must hike down some 2000 ft. and then back up 2000 ft to get to Tengboche. I doubt that I was the only hiker who wanted to grow wings.
But the walk from Namche to the river is beautiful and open with incredible views up towards Everest and back down the Dudh Kosi towards Lukla. And all around are fabulous peak. The most beautiful one, to my mind, is Ama Dablam. Just around the corner from Namche, this beautiful two-cone peak, like a mother and daughter, can be seen far in the distance towards Everest. More spectacular than Everest, this peak was to become part of our world for the next 5 days. Even now, so far away from Nepal, the thought of this peak fills my heart with joy. To me it symbolizes everything good and beautiful about this country.
Along the trail to the river, we met up with A.D. Sherpa, known as 'A.D.' to his family and friends. A.D. and John Child are co-owners of Friends in High Places. A.D. was leading a company of American monastery trekkers, who were returning from Tengboche and on their way to Kumjung and Kunde. Although I had not met A.D. before, I had heard wonderful stories about him from Kusang, Mohan, Dawa and John. They all held him in very high regard, and I could understand why when I finally met him. He was much younger than I imagined and spoke English impeccably with a faint British accent, probably learned from his adopted father, Dubby Bhagat. A.D. had a wealth of knowledge about the area and I wanted to learn as much as I could from him in the short time we had tea.
Back on the trail, we passed over the bridge and began the long trek up to the top of the ridge and Tengboche. The trail switched back and forth rising higher and higher until we passed through an arched entrance or "kani", which is said to cleanse people of spirits before entering the sacred area of Tengboche. From the height of the ridge, lodges and tents formed a jumble of colour below us to the North. In the distance sat Ama Dablam. The whole Sherpa world seems to have been drawn to Tengboche for the last day of the Mani Rimdu festival.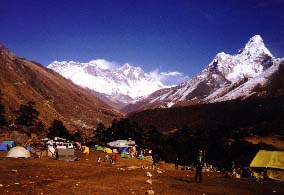 We spent the afternoon in the courtyard of the monastery with hundreds of others. Tourist and Sherpa mixed together to watch the monks perform. My friend, Larry Calloway, who hiked the Annapurna Circuit earlier with me, would have loved the Mani Rimdu festival as I am sure this was similar to pueblo dances. High up on the steps of the gompa, two 10 ft long Tibetan horns rested on a wooden stand and two young monks blew the horns from time to time.
Masked monks in long elaborate and colourful costumes, wearing curled-toed shoes, twirled about on one foot, took a giant step and twirled about again, circling the courtyard. A procession of monk musicians, wearing traditional large yellow curved headdresses, walked slowly down the stone stairway from the gompa and around the courtyard. Leading the procession was huge conch shell horn. Where did the monks get this shell in land-locked Nepal? From this remote mountain top, high in the Khumbu, the ocean seemed a lifetime away. Larger drums struck with curved metal rods thumped, the great long horns droned, hand-held bells tinkled and smaller horns hooted. I pictured the sound drifting up out of the courtyard, away from the gompa, and floating up to a high lonely spot on the ridge.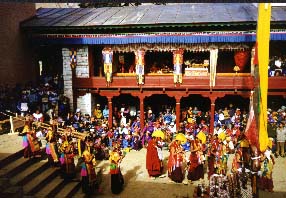 A lone monk sat on the courtyard floor holding a tiny hand-held drum. Attached to the drum was a ball on a string which was flicked back and forth. The rhythm of the ball hitting the drum begin slowly. Tension built. Then the monk began to twirl the drum faster and faster so that the drumming sounded as single note. Just when the sound reached a fury, the monk slowed the pace and the small ball would strike the drum slowly and deliberately - bonk, bonk, bonk. Demons crawled towards him in the yard.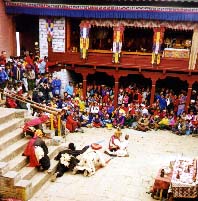 The musicians however, seemed only to be an interlude in the ongoing ceremony. Often there appeared to be a great deal of hilarity and joking going on and the tourist became butts of many jokes. A tourist would be pulled from the crowd and a monk would teach him an elaborate dance or ceremony. The tourist tried to mimic the monk. The tourist and crowd pealed with laughter at his awkwardness. From time to time, monks came out of the gompa laden with trays of fruit and Tibetan bread and they served food to the crowd. Some monks carried huge tea urns and others carried buckets of a white porridge-like substance which was ladled into peoples open hands. While all this was going on, the monks continued the elaborate ceremony in the courtyard. One of the funniest parts was when a monk, who appeared to play the trickster, carried a holy book around the courtyard of the monastery. The Sherpa people bowed their heads respectfully as the book was placed above their head. Then the monk reverently unwrapped the book, winding away the layers of coloured cloth. "The book" turned out to be a box of Red Cow Milk Powder. Everyone burst into laughter. He opened the box and out jumped a cat. Everyone cried out in surprise and then howled in laughter.
The mood of the dance then turned quite somber. The monk who played the trickster, pulled out a ladder and set it against the courtyard wall and climbed up to the Rimpoche who was seated on a balcony above. He was given a sword and a kata by the head Lama. He climbed back down the rickety ladder, shed his shirt and danced about twirling the sword. Quite suddenly, he pointed the sword to his breast. I was suddenly afraid that he was going to commit hari kari. He fell towards the sword and simultaneously the Rimpoche and other lamas above, and the Sherpa people below, threw katas and money. The sword was deflected away from the monk's breast, as the money rained down upon him and monks scurried to pick up the rupees.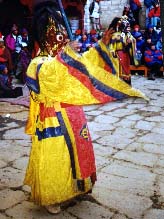 I'm sure that there is a story that goes with the ceremony, but since I did not know the story, all I could do was enjoy the disjointed parts of the action.
I slept in a dormitory of a hotel with 9 or 10 other snoring tourists. The Sherpa had a dance in the courtyard of the gompa, but by nine o'clock in the evening, it had not started. I went to bed. The dance started late and was still going strong at 4:00 in the morning. That's when I finally drifted off.
Monday 17 November - Hiking Day 6
Press on to the north, past Pangboche (13,123 ft.) where the "Yeti Scalp" which was the focus of the famous Edmund Hillary Yeti Expedition is located. Though the scalp was determined not to be a Yeti, it and the Pangboche monastery are still held in great reverence by the local people. Continue on an easy afternoon walk to Dingboche (14,271 ft.).
While the camp slept, I rose in the dark and with the help of my headlamp, I climbed the ridge behind the lodges to watch the day begin. The coming of dawn was foreshadowed by a solitary songbird. Like a child at a fireworks, I turned round and round watching one peak after another light up with the sun's first rays. Ama Dablam, backlite by the sun, floated above the quiet campground. A few reverent trekkers gathered to celebrate the event.
Kusang took me to Pangboche today. The quiet of the morning continued throughout the day. The drums and chanting in the Pangboche monastery floated over the town. No child laughed or cried, no person spoke. The land was blanketed in peace. Pangboche is the oldest sherpa monastery, some 500 years old. We climbed through the monastery as the chanting continued. The "yeti scalp", that was previously housed at this monastery, was stolen in 1991 and is reputed to be held in a private collection in West Germany.
Along the trail to Dingboche I met an American couple. The woman complained of a terrible headache. She tried aspirin without relief. She was encouraged to drink a lot of liquids, but nothing seemed to help her. They had very little medication. I was loaded with two hundred dollars worth of unopened prescription medication which I carried for the past month and a half in Nepal. I gave her husband some diamox as there was concern that she was having difficulty acclimatizing. We left the couple by the Orsho teahouse, the wife lying prostrate on a stone ledge and the husband wringing his hands. Kusang told me that he saw her later that day, crying while waiting to see a Himalayan Rescue Association doctor from Pheriche who was making his weekly vistit to Dingboche. For the next few days, I was nagged by the thought that I should never have given her that medication. I feared that the medication could have harmed her.
The trail though Dingboche, wound past empty fields ringed by stone fences, and the occasional building. There are no trees, not even any bushes. Kusang always seemed to chose the furthest lodge and we trudged through this strange town not seeing a soul.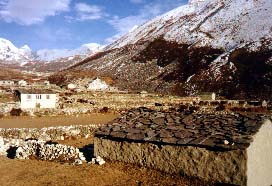 We stayed at the Island Peak View Lodge and basking in the sun on the benched seats of the dining room throughout the afternoon. The dining room was ringed by large windows on three sides and appeared to be a virtual greenhouse letting in warmth and light while keeping out the cold. I basked like a cat in the sunlight, curled up in the windowed corner, reading a book. In the evening, the lodge began to fill with tourists. A group of Canadian trekkers, including four from Edmonton, showed up at the lodge. Two of the Canadian fellows had a climbing permit for Pokalde (19,000 ft), a nearby trekking peak. The strangest tourist was Walter, who asked me to go for a walk to see the stars. He was into cosmology and wanted to discuss black holes and parallel universes and the like. Too weird for me. Turns out he's a Polish diplomat. Back in the lodge he tried to organize a hike over Kongmala (18,159 ft.) to Lobuche. It looks like the same distance as the regular route via Tughla, but requires a 4,000 ft assent over the pass from Dingboche and a loose scree descent on the other side. The guide book calls it "a tough day to walk" and suggests camping near the summit of the pass at some lakes for stunning sunset and sunrises on either side of the pass. Our guides suggest it would be too difficult to do in one day.
Tuesday 18 November - Hiking Day 7
You may take a rest day here for altitude acclimatization, as Dingboche is 14 ,271 feet. You can walk up the valley toward Chukung.
Another rest and acclimatization day. Kusang, Mohan and I left at 8:00 a.m. to dayhike to Chukhung and we climbed the ridge behind the town towards Kongmala. At about 16,000 ft. we stopped because it was getting cold. Kusang carried my daypack and I had lots of warm clothing on, but the boys didn't seem dressed for the weather, so when I suggested we head back down, they both agreed. As we returned we passed a lone mani stone just one line of "Om mani padme hum" carved in a stone. What happened to the carver? Why did he carve only one line and then stop? We speculated about this mystery as we walked back to the lodge.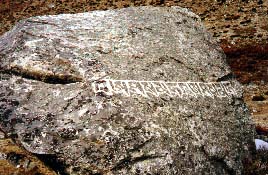 We returned shortly after noon - just in time for dhal bhat. We read and rested all afternoon in the sunroom until the lodge began to fill up with marathoners. By late afternoon, two of the tourists staying in our lodge - Mai, a Finnish girl, and Walter, the Polish fellow hadn't returned. Night was falling and the weather was turning bad. Heidi, another Finnish girl, and I sat fretting. Well after dark, the prodigal hikers returned, entering the lodge to cheers. Walter had trekked up to Kongmala and Mai had trekked to the basecamp of Island Peak. Both were pretty exhausted.
Wednesday 19 November - Hiking Day 8
Another rest day at Dingboche.
Bad weather set in last night. It snowed. This morning, the clouds were so low, it appeared foggy. I packed to go and waited outside for Kusang and Mohan. Kusang didn't appear anxious to push on. I suggested we wait until later in the day to see if the weather improved. But once we settled into the sunroom, the idea of hiking for the day was lost.
By mid-day, Jason, one of the Canadians from Edmonton returned to the lodge. He and Shawn, from Vancouver, had trekked to the campsite on Kongmala yesterday. Their plan was to climb Pokalde today. But Jason thought the weather was too crappy for climbing so he bugged out. Shawn decided to press on with climb, accompanied by the Sherpas. He picked the worst day of the hike to try the climb. The weather deteriorated all day. We were all pretty worried about Shawn's decision to continue on and spent most of the afternoon discussing mountaineer's decisions.
To liven up the atmosphere, we decided to teach Walter the card game of Hearts. He kept losing. Every time he lost, he'd say he wanted just one more chance to beat us. We were still giving him one more chance at 7:00 in the evening. Then Shawn and his guides arrived back, again to cheers. They hadn't peaked but had gotten quite close. He was exhausted but we talked him into joining the card game while he waited for his dinner.
The marathoners arrived back in the lodge. They were camping in tents and spent the evening warming up at our lodge. I gave a South African woman marathoner my high energy glucose tubes. She'd forgotten hers. I figured she'd need it more than me. While we continued the never-ending card game, we overheard one of the marathoners asking if anyone spoke Russian. Walter, the Polish Diplomat, had told me about serving in Russian, and he was recruited. Apparently there was a lone Russian on the marathon. One of the journalists wanted to interview the Russian and the doctors were worried about the fact that he joined the marathon late and wasn't properly acclimatized. This appeared to call for some diplomacy and I figured Walter was the right man. I watched Walter, the journalist and the doctor talking with the Russian across the room. I was curious to find out what was going on. When Walter returned he told me that the Russian was in fine shape. He was tested by a device put over his finger to measure his blood pressure, pulse and the amount of oxygen in his blood. He was the Russian champion mountain marathoner. In Russia they apparently run up a mountain and this run down a mountain was treated with some derision. Walter expressed his feeling that this medical concern was really politically motivated because the Russian had an excellent chance of winning this race. Whether that was true or not, stories were circulating of intrigue in previous years when some of the best Nepali runners having been paid off so that they would not win.
Thursday 20 November - Hiking Day 9
Cross the ridge behind the village in the morning and begin the ascent of the terminal moraine of the Khumbu Glacier. The views of Pumori and Nuptse from Lobuje, are just a small taste of what's in store. Follow the moraine north today, to the dry lake bed at Gorak Shep (16,962 ft). This is spectacular, barren country. The terrain has changed twice since you were at Thayangboche - first when you passed treeline, and now again in the High Himalaya. Then return to Pheriche (14,042 ft.) for a well deserved, long night's sleep.
The weather changed again and we were met with blue sky. For some reason, Kusang felt this was the turn around day and he told Mohan to return with the duffel bag to Deboche. We would meet him later. Kusang and I would hike towards Everest, then return to meet Mohan. We thought we would climb until we got tired and then turn back. We followed two stray yaks and climbed the ridge above Dingboche (14,271 ft).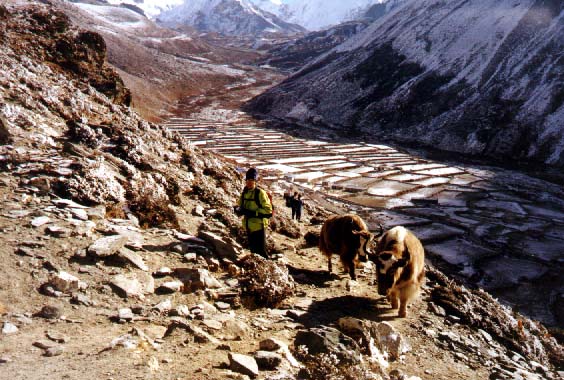 On the other side of the ridge, the trail continued on a flat shelf above Pheriche and the Imja Kosi. This was the most pleasant part of the whole trail. It was flat, went on for miles and the views were stupendous. Snow remained on the ground, keeping the trail from becoming dusty. The land is barren rock surrounded by peaks.
I passed a girl on two crutches. I asked her how she was finding the hike. She seemed upset by the question. She told me she's been on crutches since she was a child - polio I think - and she said that she could do everything her friends do - just a bit slower. I was chastened for a while.
Then in the distance, moving rapidly towards me I spied a runner in shorts and a Everest marathon tee-shirt. He was training for the race. As he came towards me I yelled "Tapaaiko photo khichu?" (Can I take your photo?) which made him smile.
For some reason, meeting those two people made me feel very strong and Kusang and I put on miles with little effort. We passed the tea house at Tolka (15,092 ft) and began the harder uphill hike up towards to Laboche (16,207 ft).
As we crested the ridge, we came across a memorial ground with cairns built to many Sherpas, and some Europeans and Japanese. Kusang crouched on the ground. I wandered through the chortens reading the plaques which were roughly carved on stone slabs. "Naryan Sherpa - Climber and Friend - Sagarmatha September 1988", "In memory of late Nima Dorjfe Sherpa 5.4.97" "Simon Burkhardt, 28.9.1986 Everest", "With love to our friend and brother Krigi 1960-1988", "In memory of Yoshikuni Mori (age 25 years) who was a student of Toku Shima - University, Alpine club member of Japan who died on 28th March 1990 as the team leader during the Pumori Expedition. We pray to the Almighty for Mr. Mori's eternal peace and for the consolation of those who loved him. He will always be our hearts. Now you rest in peace." But by far the majority of these 20 memorials are to Sherpas. Just simple names scratched into stone. It was so quiet here. The air was filled with lost souls. I began to cry, overcome by the loss to these beautiful people. I couldn't think of what to say to Kusang - so many of his people, friends or relations, remembered here because western people want to climb his sacred mountain.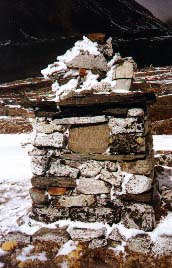 We began walking quietly away. A strange spicy smell fills in the air. I wondered if we are close to Laboche. But it was still some distance to the lodges. As we crossed another ridge, some birds dive bomb us. We heard them before we even saw them. When we arrived at Lobuche it was cold. I entered a lodge to put on warm clothing. It seemed colder in the lodge than outside in the sun. Kusang ordered garlic soup for me. Sherpas' claim garlic soup is good for acclimatization. The soup arrived hot and tasty and I ate the soup at an outdoor table and chatted with a girl I'd met earlier on the trail.
I was still feeling strong, so Kusang and I decided to press on towards Gorak Shep (16,962 ft). To my surprise we meet the American girl that I gave diamox to earlier. She told us that she had been suffering from food poisoning. I felt relieved to find that my medication had not aggravated in her illness. Later we met Heidi and Mai, the Finnish girls we befriended in Dingboche. Both groups had decided to travel through the snow storm on the 19th of November and they were a day ahead of us and on their way back down from Kala Pattar. As we climbed higher crossing the Khangri Glacier, I began to develop my first altitude headache and used a half a diamox pill - my first and only use of the prescription medicine my porter had been carrying for the past month and a half. Not surprising - it was almost 2,700 ft. elevation gain from Dingboche to Gorak Shep.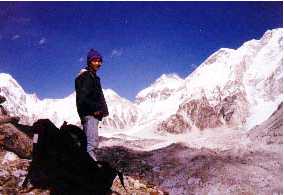 We stopped at a ridge just above Gorak Shep, climbed a bit and then sat to rest and take pictures. I would not be able to pick up a black stone from Kala Pattar to join the white stone from Thorung La, but made do with a rust colored one from Gorak Shep, the high point on this trek. Below us the Khumbu Glacier flowed gray up towards the blue-white of the Khumbu Ice Falls. Looking back we could see a string of yaks crossing the glacier as if heading to Kongmala. The view was surreal - surrounded by Pumori, a symmetrically solitary peak, Everest, looking bleak and chunky and Lhoste, floating in the sky like a beautiful ice sculpture. I wanted to continue walking. The air was fine and I felt very fit. The sky was blue and cloudless. Everything good and beautiful lay ahead and I felt drawn towards these mountains. But it was 2:00 in the afternoon and we had to turn around if we wished any chance to reach Mohan and our gear. We had just put in an extra-ordinary trek and I was feeling invigorated and alive.
As we returned, we chatted with the marathoners who were climbing up towards Laboche. As we again approached the monuments and chortens to the fallen climbers, I once again smelt the spice in the air. I asked Kusang about the smell. He told me it was the smell of incense - a plant which grew in the area. He brushed away some snow and plucked some leaves from a plant. Sure enough that was the smell. When we returned to Lukla, Kusang showed me a huge bag of the incense plant stored in the upper room of our lodge. He invited me to take a handful. I carefully placed some into a plastic bag and carried the precious incense back to Canada. Even now, the dried twigs are stored in a drawer of my computer desk. As I typed this journal, almost a year later, I opened the bag and the smell fills my kitchen. I am mystically returned to the dry, high valley surrounded by famous peaks and graced with the chortens dedicated to the fallen climbers.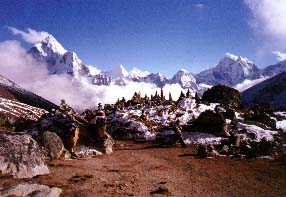 I continued to feel strong as far as Tolka, but as we followed the lower trail close to the Imja Kosi, my strength began to wane as the sun sank lower in the sky. The trail was uneven, wet and rock-strewn. It seemed hard to believe that this lower trail could have been so much worse than the high trail that we had followed out this morning. I believed I was just feeling very exhausted. As we approached Pheriche (14,042 ft.) I asked Kusang how much longer it was to Deboche. Kusang responded "Two hours something". It was 5:00 p.m., very cold and close to dark. I had put on all my warm clothing and mitts. My pants were wet from the hike and I was beginning to feel hypothermic. Kusang was finally showing some signs of being cold - he agreed to wear my glovers. We had no flashlight. At the last lodge in the town, I turned to Kusang and asked if they would have blankets. Kusang checked with the lodge owners and indeed they had some. I could walk no further and we agreed to stay at the lodge. We had nothing but the wet clothing on our backs.
In the lodge we met 4 Germans from Freiburg. They could see I was in a bad way - very cold and tired - and they offered me a seat close to the useless fire they keep trying to get going. They couldn't seem to get the yak pies burning and smoke filled the room. I tried to eat some soup, but found myself so tired that I just grabbed a blanket and pillow and curled up on the ledge bed which surrounded the large room. People kept talking and the lantern flickered as I dozed. Kusang seemed quite concerned and asked if I wanted to go to my room. It was cold and dark in the little sleeping room. At least in this room there was the faint hope that someone could get the fire going and I rationalized that a room with people would at least have some hot breath in the air, so I indicated to Kusang that I would sleep here. Kusang covered me with another blanket, but the lodge owner said the blankets we chose were not warm ones. Soon I was covered by a heavy warm blanket - probably made of yak wool. I took a few aspirins, put on my touque and mitts and dropping off to sleep.
We had climbed 2,061 ft and trekked back down 2,920 ft. - all in one day. Most trekkers would have spent at least 3 or even 4 days doing what we had done today. I felt pretty proud of myself.
Friday 21 November - Hiking Day 10
Down from Pheriche to Namche.
I was actually surprised that I was able to sleep at all last night. The diamox got me up at 1:30 a.m. and again at 5:00 to use the charpi. It was terribly cold in the room. After my last trip to the charpi, I lay in bed trying to keep warm and waiting for the room to warm up. People began to move about and a fire was soon lit, but no heat emanated from the fire - only smoke. By 8:30 however, the sun struck the side of the building and the room warmed up. Although I put on all my clothes, I was still cold, but fortunately there is a slight climb out of Pheriche and I soon began to warm up.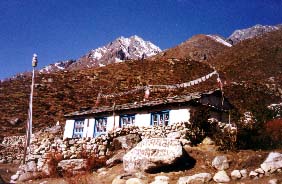 We again met up with our two Finnish friend and several American girls and we played hop scotch all the way to Deboche. When we arrived at the New Annapurna Lodge, our Finnish friends decided to stay there for the night. Kusang thought we might meet Mohan here, but discovered that although he had stayed there last night, he had already had left for Namche with our gear. I was smelling pretty bad and was really looking forward to some clean clothing.
We hiked on up to Tangboche. The trail was snowy, muddy and slippery as it wound it's way back up to the monastery town perched on the hill. When we finally arrived at Tangboche, I saw Mohan in the distance and let out a cry. He came running to us and I hugged him. He told me that he hadn't slept at all last night worrying about us. He had apparently walked back up the trail with a friend to a bridge crossing near Pheriche, looking for us in the night. As we walked down the hill on the other side of Tengboche, Mohan and Kusang chatted with two Sherpa women (one with a small child lodged in a papoose) who were jogging down the trail. I suggested that they enter into the marathon and the boys explained this to the women. They pealed in laughter. At the bridge crossing, I changed into clean clothing and washed myself and felt much better. As we walked along the trail to Namche, we met the Edmontonians, Ivor, Jerry and Roberta, whom we had met earlier in Dingboche. We hiked with them to Namche. They were much slower than we, so we sauntered along regaining our strength. Ivor was a tree biologist with the Alberta government and we had some interesting talks about the tree planting sites that he saw in the Khumbu. Some were apparently sponsored by a Canadian group and he was surprise to learn this.
Mohan and I became bored and we scooted on ahead. We saw a flock of 8 wild goats and then just before we reached Namche, Mohan pointed out the beautiful, 9 coloured national bird called a "daphne". Kusang caught up with us and told us that this bird is worshipped by the Nepali and no one kills this bird.
We returned to our same lodge - the Konge Lodge - and ordered 3 beer and two plates of chips. They really know how to make potatoes chips here and they build the warmest fires of any lodges on the trek. Later in the evening, the older grandmother came through the room chanting and swatting at the legs of the boys who were resting their feet on the wooden box surrounding the fire. I sunk back lazily into my chair and basked in the warmth waiting for my dinner of dhal bhat to arrive.
Saturday 22 November - Hiking Day 11
Visit the Namche Bazaar again then short walk to Benkor.
I arose early this morning for the Saturday market - even Kusang wasn't up yet. I decided to return the down jacket and retrieve my deposit of 8,000 rupees. But the store wasn't open. Another shopkeeper yelled "five minutes". I decided to check out the bakery/lodge in downtown Namche. While I ate my apple strudel, I browsed through the guest book. The last guests to sign into the book were "Jim and Sharon Boothman" on 10 November 1997 on their way to Kala Pattar. Jim was a boyhood friend of my former husband and he and his wife were the only witnesses at our wedding. I'd met them earlier, by sheer luck, on the Annapurna Circuit and knew they were some where in the Khumbu. Some fast math confirmed that they had not pass through Namche on a Saturday on their way up to Kala Pattar. I reasoned that they may try to pass through on their way back on a Saturday to see the market. Maybe I would see them today among the crowd overlooking the market.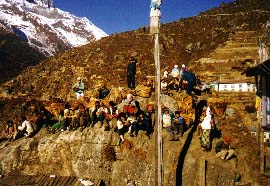 I picked up my parka deposit and I headed to the market and spotted Mohan. Immediately I also saw Jim and Sharon standing on the hillside near the market. I shoved through the crowds to meet them. Suddenly I was surrounded by Kusang, Wongdi (Jim's guide), Mohan, Sharon and Jim and we are all laughing and telling stories about our adventures. Jim and Sharon were on their way out of town for Phukding, but we decided to meet up later for a beer. We were scheduled to leave Lukla on the same morning so we have further chances to get together
Mohan walked through the town and he helped me shopping. I loved the brightly coloured door hangings and we bargained with a local merchant to purchase several.
I headed back to the lodge for lunch and met up with a room full of young kids from Singapore. We clung to the dining room windows watching the Everest Marathon organizers prepare the finish line just below our lodge. To a person, we began to laugh. We were all thinking the same thing. "Let's get our cameras and take pictures of each other crossing the finish line." About 10 kids scooted out the door down to the finish line and I could hear their laughter as they pretended to be marathon finishers. Kusang was very anxious to go down, so we grabbed my camera and joined the Singaporeans. As we arrived two of the girls were pretending to be winners. Agnes Lee held up a serving tray and Yan Mei held up a cup. I clicked their picture.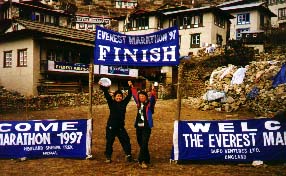 Then Kusang has his picture taken crossing the finish line and he insisted that he take my picture and I hammed it up for the camera. Later in the lodge I was approached by one of the boys from Singapore. I told him that I would put Agnes and Yan's picture on my web site. He wanted to know my web site but I didn't yet have one, so I gave him my card and told him to contact me at my e-mail address.
We packed up and left. Mohan and I decided to race our own marathon down the hill from Namche, making it to the bridge in 35 minutes - he carrying my huge duffel in his doko and me with my tiny day pack. We crossed the suspension bridge over the Dudh Kosi and waited by a rock for Kusang.
As we waited I turned around to see a monkey staring at me from the bushes some 5 feet away. I ran to take his picture. I couldn't imagine a monkey living in the Khumbu!!! I was still jabbering with Mohan about the monkey, when Agnes Lee ran up and wanted to take my picture. She suggested that I flash a Victory sign. Someone must have told her of my plans and she had no intention of allowing me to get away with a trick.
When Kusang still didn't show up, Mohan and I walked ahead to the park entrance gate where I went in to show my trekking permit. The official looked at my passport and then at me and he said "Canada...very nice country...but". Trying to fill in the blank and being polite, I said "Yes...very nice country but our mountains are not as high as yours". He just repeated himself. I had no idea what he was getting at. I just looked at him for a very long time in silence. Then he said "environmentally very bad". I was stunned. The official went on to state that Canadians over consumed natural resources and Canada was the world's biggest polluters. I had no idea what he was talking about - I was stunned by his aggressive manner - so unlike any other person I'd ever met in Nepal. I completely lost it and just said "bullshit" before I had even gave any thought to the fact that he was an official in another country. He was offended. He said "I do not lie". He said he was a student of Environmental Studies and that he had read all sorts of literature published by the Canadian government about how bad our pollution was. His English was so difficult to follow and his manner so abrupt and aggressive that it was impossible to have a reasonable conversation with him. I just completed my business and left. But I was so ticked off that I marched back and asked him his name. He said it was Binod Badri. He told me he was going to an environmental conference in Montreal in 1999. I told him that I would ensure someone spoke with him. I walked away really steamed. I daydreamed about demanding that this man explain why he lived in a country with a capital as polluted as Kathmandu where people had to wear masks over their face, where people in the Khumbu so denuded their land of trees that they had to have the Edmund Hillary Foundation of Canada fund seedling projects, and where shit and rubbish littered the trails. In the face of all that filth, why did he think he had the right to chastise me and belittle my country? As I marched down the trail, incredible repartee flowed in my mind and before I knew it I had arrived in Benkar where we planned to stay for the night.
I walked into the lodge, still steaming and described the incident to an number of tourists sitting in the dining room. Everyone was pretty surprised. The tone of the evening was set by my asking this question, "Why do we (westerners) have so much and they (the Nepali) have so little?". Some said it was because of religion, one said work ethic, a woman said the Nepali actually have more if you look at it on a spiritual and happiness scale, another said it was the cycle of chaos. We began to explore chaos theory and the conversation veered to disasters. A publisher, originally from Pagosa Springs, Colorado, but now living in Eastern USA, began to explain the latest conspiracy theory on every topic imaginable. We'd throw out bones - JFK, holocaust, Lady Di, Bobby Kennedy, the downing of the plane in New York, Gerald Ford, Bush, Nixon. The American would explain a conspiracy theory that fit the topic. This guy was right off the wall - but very interesting. Even Kusang and Mohan were intrigued by the discussion. The evening passed quickly - ideas darting around the room. After two months of hard physical activity, it was fun to exercise my brain again.
Sunday 23 November - Hiking Day 12
Return to Lukla.
I ate a greasy cheese omelet for breakfast and for the whole day my stomach rebelled. Greasy food just doesn't agree with me. I was just too greedy, trying to eat more delicious melted yak cheese. Mostly I just felt tremendously weak and even downhill hiking was laborious. It would probably have been better if I had just been violently sick, but I struggled not to be ill. Kusang was solicitous as ever, and we stopped for tea in Phukding. We came to Kusang's home and again went in for tea. I was offered food, but I just couldn't eat anything. I really liked little Dawafuti - she was just the age when children lose their front two baby teeth and she had a charming gummy smile. I gave her the little angel pin that my sister, Barby, had placed on my daypack as a good luck charm for my trip. Dawafuti was delighted. As we went to leave, Kusang's mother, in a small ceremony, gave me a kata and I was really touched. I had seen these white flowing scarves at the monasteries and in pictures of Edmund Hillary when he returned to the Sherpa villages. I wanted one so badly, but these seemed to be gifts that are given not taken. I didn't quite know how to express my profound gratitude, so I just thanked Kusang's mother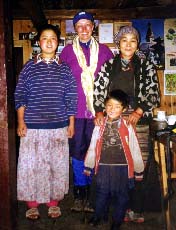 As we walked through the town of Ghat, Kusang invited me to his auntie's home. This was a very interesting visit. Kusang, who had been very dignified and reserved over the last two months we spent together, joked and laughed with a young woman he called his cousin. Without even knowing the language, you could tell that she was teasing him unmercifully and he was enjoying the repartee. Kusang's cousin served us Sherpa tea, which appears to be a milder form of the salted - yak butter tea called Tibetan tea. This tea bought back vivid recollections of Kagbeni. I took a few sips to be polite but my already weaken system could not bear the memories.
It wasn't far to Lukla, and upon arriving there we returned to the Everest Summit Hotel and I went searching for Jim and Sharon. I found Jim and Sharon at the Paradise Lodge close to the airport and we spent the afternoon chatting and drinking beer. Jim was able to arrange for Wongdi, his guide, to leave the next morning guiding a couple of Australian girls back to Everest Base Camp.
I wandered back to my lodge in the dark, took a shower (first one in two weeks) and washed a pair of slacks to wear on the flight back. The stove on the third floor of the lodge was lit and my slacks were folded over a chair near the stove to dry. I sat in the dark room and thought about this trip. The faint smell on incense from the bag of dried twigs in the corner of the room, stole throughout the large room. I was haunted by the chortens to the Sherpas who died in the mountains.
Monday 24 November - Hiking Day 13
Return to Kathmandu by air.
The weather had been overcast and flights had been delayed the previous day. We wondered if our flight would leave this morning. But the morning fog cleared away quickly and Kusang, Jim, Sharon and I waited for the flight.
Mohan said he could not afford to fly back to Kathmandu and he intended to walk out. I gave him my gloves, a colourful touque and a healthy tip and he seemed happy. I would miss him. Mohan had learned English working in a store in Thamal, and he was eager to please. He had an easy, friendly manner and he enjoyed trying new adventures.
When Jim learned that I was to return in a Canadian Twin Otter and he was returning to Kathmandu on a rickety old Russian Helicopter, he wanted to trade seats. Jim had recently retired as a pilot for the United Arab Emeritus Airlines, but in his younger days he'd been a bush pilot flying the Twin Otter in Northern Canada. He trusted that plane. Kusang and I guarded our tickets.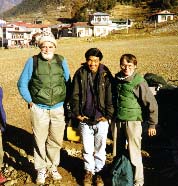 The view on the flight back to Kathmandu was wonderful...worth the price of the whole adventure. I sat with the strange publisher who was into conspiracy theory and we tried to name the peaks as we returned to Kathmandu. I was relaxed and looking forward to a shower in the Kathmandu Guest House, having my clothes washed by the Guest House laundry, sending out e-mails to let my folks know I was fine, eating a real Italian pizza at "Fire and Ice" and then the piece de resistance, a chocolate sunday at "Mike's". I was returning to a place which felt familiar - home.